Off the Beaten Path: Explore Death Valley's Rugged Byways
Plunging canyons, remote dunes, and dramatic landscapes await visitors
While you can easily explore Death Valley National Park from its main roads, a world of rugged canyons, remote dunes, and awe-inspiring landscapes awaits visitors who go off-pavement to tour the park's backroads. Within easy reach of the Oasis at Death Valley, these roads — some just a few miles long, others all-day adventures — lead to hidden spots that most park visitors miss.
The routes listed here are all rated as suitable for high-clearance vehicles, with or without four-wheel drive,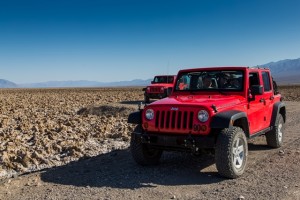 and appear on the park map. But because these roads lead into remote sections of the park and conditions can change rapidly, check at the visitor center for the current status before heading out. For more information, visit the park's road page.
If you don't want to take a rental or your own vehicle off-road, try Farabee's Jeep Rentals. The company also leads backroads tours, including the all-day outing to The Racetrack to see boulders that have somehow moved across a dry lakebed. With its jagged rock, the road to The Racetrack requires heavy-duty tires and is not suitable for most vehicles.
A few precautions:
Make sure your car is in good working order and check the condition of your tires.
Don't go out without a full tank of gas.
Carry water, food, and either blankets or extra clothing in case of a breakdown.
Don't travel off pavement during hot weather (especially in summer) or when rain is forecast.
Carry maps and don't rely exclusively on GPS systems, which are sometimes inaccurate in the park.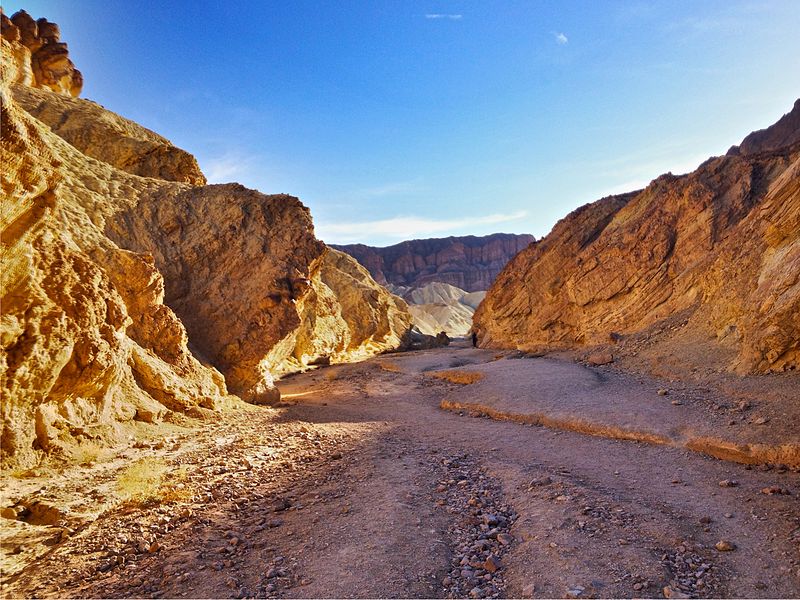 West Side Road
Where: Access to this nearly 40-mile graded gravel route along the western edge of the valley floor is off Badwater Road, past the entrance to Artist's Drive and about six miles south of the junction with State Highway 190 at Furnace Creek.
What's there: Following the route of early travelers and the mule teams that hauled borax out from the valley, West Side Road is now used primarily by jeep adventurers seeking to explore rugged four-wheel-drive tracks that travel into the canyons of the Panamint Range. For more casual travelers, the road's appeal is the unique perspective it offers on the valley's salt flats and surrounding mountains, especially in late afternoon when you'll get beautiful views of the Funeral Mountains to the east, richly illuminated by the setting sun.
Drive its full length and West Side Road rejoins Badwater Road at the valley's southern end. You don't have to go that far to get the views but anyone interested in mining history might want to continue to the boggy spring and modest ruins at the Eagle Borax Works, established in 1882 as Death Valley's first borax operation.

Titus Canyon
Where: The granddaddy of backroads for Death Valley travelers, this one-way, 27-mile route through the Grapevine Mountains begins two miles east of the park boundary off Nevada Highway 374 about 50 miles from The Oasis at Death Valley. The going can get bumpy, especially after rains, so be prepared.
What's there: Climbing to 5,250 feet, with spectacular steep-walled canyons and colorful geological formations along the way, Titus Canyon lets you experience the beauty and history of the park's high country. Give yourself a half-day to explore such sites as the Leadfield ghost town and the Native American petroglyphs at Klare Spring (also a good spot to look for desert bighorn sheep). Stop for walks into side canyons and to see the Titus Canyon Narrows, where cliffs hundreds of feet tall close to less than 20 feet apart.
Twenty Mule Team Canyon Road
Where: Less than three miles long, this one-way route begins off State Highway 190 past Zabriskie Point and about 4.5 miles south of the Inn at Death Valley.
What's there: Traveling through Twenty Mule Team Canyon Road's jagged, colorful badlands is as pretty a few miles as you'll drive in the park. Composed of eroded sediments in a range of golds and yellows, the canyon's hills and mounds are a continuation of the formations at Zabriskie Point. The views change around every bend as you slowly wind through the dramatic, bare hills; with an almost complete lack of vegetation, these are true badlands.
Death Valley/Big Pine Road to South Eureka Valley Road
Where: A big drive, this roughly 200-mile round trip explores the park's remote northern section. The gravel stretch begins from Scotty's Castle Road at the turnoff for Ubehebe Crater, about 50 miles north of The Oasis at Death Valley.
What's there: If you enjoyed walking on the Mesquite Flat Dunes near Stovepipe Wells, you'll love exploring the much higher, more majestic Eureka Dunes. According to the park, at 680 feet these are California's tallest sand dunes. It's a long way to go; the gravel road stretch alone is 44 miles and there's plenty of washboard to slow you down, so each leg takes about three hours. But combine a trip to the dunes with a stop and walk at Ubehebe Crater, the 600-foot-deep remnant of a volcanic eruption, for a memorable visit to a pair of the park's most distinctive geological features.
For information and reservations at The Oasis at Death Valley, visit oasisatdeathvalley.com/ or call 800-236-7916.
For travel experiences available from Xanterra Parks & Resorts and its affiliated properties, visit xanterra.com/explore.
Written by: Matt Jaffe
Specializing in California, the Southwest, and Hawaii, Matt Jaffe is an award-winning former senior writer at Sunset magazine and contributes to a variety of publications, including Los Angeles, Arizona Highways, and Westways. His books include The Santa Monica Mountains: Range on the Edge and Oaxaca: The Spirit of Mexico.
---