Exquisite Excruciation
The High-Temp, High-Stakes World of Death Valley's Extreme Sports
In 1986 I set an ambitious goal to run one mile per year. As a result, by 2012 I had completed my first marathon. As impressive as that sounds, some athletes can cover those same 26.2 miles in about three hours. Then there are extreme athletes who will run 135 miles in about 24 hours, which, by any standard, is incredible.
But to run those 135 miles in the harsh environment of Death Valley? Impossible.
Or is it?
Digging Deep
Whether it's swimming the English Channel, climbing Mount Everest, or landing men on the moon, humans have always had an unquenchable desire to tackle unconquerable challenges. None are as popular as those involving human endurance. The more demanding the challenge, the more determined the competitors.
Which is exactly why extreme athletes flock to California's Death Valley National Park.
Assuming most Americans would cry uncle after 20 minutes on a treadmill, the challenges of competition in Death Valley are stark. Rather than scanning 101 cable channels during an air-conditioned workout, runners and cyclists invest months — if not years — preparing to compete in the lowest (282 feet below sea level), driest (1.9 inches of rain per year), and hottest (record high: 134 degrees) place in America.
Death Valley is a triple threat.
Humans compelled to compete in this punishing environment come here to take on a range of events from half-marathons to full marathons, 10K runs to 100-mile bicycle rides to benefit charities like the Juvenile Diabetes Research Foundation. Training is a must. Even though these road races are often held in cooler months, the optics created by the national park's vast desolation as well as extremely dry conditions demand physiological and psychological stamina.
Even golfers, who have a notoriously high level of concentration, need to up their game when they compete in the Hell2Heaven Golf Challenge that pairs the world's lowest and highest elevation courses — in the same day. After playing 18 holes at the 214-feet-below-sea-level course at Furnace Creek they'll head to Mammoth Lake's Sierra Star Golf Course at 8,000 feet above sea level.
Some players may have trouble leaving The Oasis at Death Valley behind. An oasis for athletes and visitors alike, it boast 66 rooms at the AAA Four Diamond Inn at Furnace Creek plus 224 at The Ranch at Death Valley, an 18-hole golf course, spring-fed swimming pools, and tennis courts. On race day there are shaded tents, banquet facilities, and plenty of ice and water. While some seek The Oasis at Death Valley for its unique levels of luxury, however, extreme athletes arrive for one good reason: Badwater.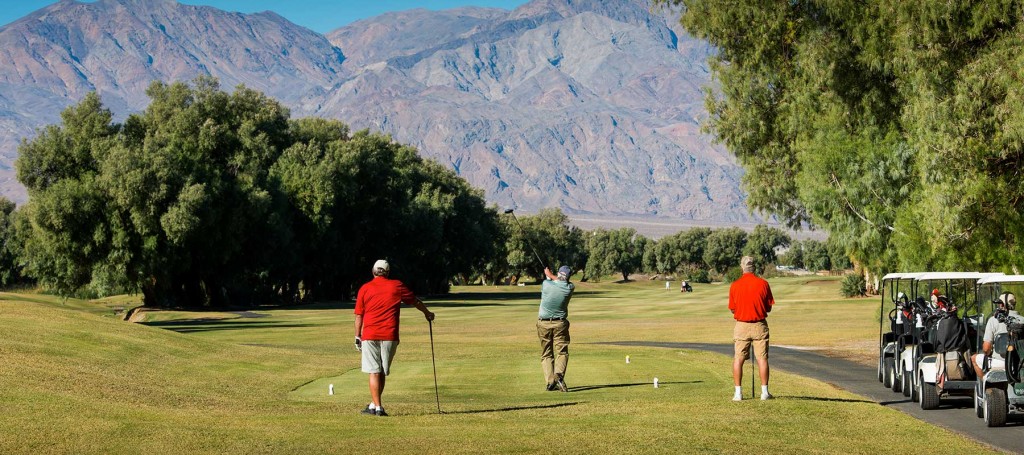 The Outer Limits
Recognized as 'The World's Toughest Foot Race' the STYR Labs Badwater 135 Ultramarathon is an invitational event that attracts up to 100 endurance athletes from 25 nations. Starting in the depths of Death Valley at Badwater Basin (282 feet below sea level), over the next few days contestants will run 135 miles past Mushroom Rock, the Devil's Cornfield, Stovepipe Wells, Panamint Springs, and Alabama Hills before reaching the finish line at the Mount Whitney Portal. Now at 8,300 feet above sea level, they've covered three mountain ranges, nearly 15,000 feet of cumulative vertical ascent, and just over a mile of cumulative descent.
The youngest to complete the race was 19-year-old Nickademus Hollon of the USA. The oldest? Britain's 75-year-old Jack Denness. Incredibly, they and others
did this when the race started in the daytime heat of July. In 2015 the National Park Service determined that wasn't really smart. Or fun. Or safe. Now runners depart in waves on the night of a full moon, which ensures that they don't face the hottest part of the course, from Badwater to Stovepipe Wells, during the hottest part of the day. It also prevents them from starting out when it's already over 100 degrees and they're struggling to stay cool before even taking a step.
While average runners adhere to normal training regimens, Badwater runners go far beyond normal. Like Rocky Balboa (who found that a frozen side of beef makes a good punching bag), many Badwater runners work with what they've got.
In 2010 when the race was still held in the harsh daytime heat, Zach Gingeirch of Aurora, Ill., would drive to the gym and head straight to the sauna. While others huddled motionless on wooden benches, Gingerich visualized himself in Death Valley and began jogging in place.
"I got a lot of funny looks," he recalls. "I spent a lot of time jogging there. My goal was to jog for at least 30 minutes before I'd feel like passing out."
But an Illinois sauna had nothing on Death Valley. When Gingerich arrived for the race, he was floored by the searing heat that enveloped everything. He quickly understood "how critical it is to be prepared and make sure I had a great support crew in place. My crew was invaluable to me; a constant help in getting me the fluids I needed, making sure I was using enough sunscreen, and eating enough Skittles."
Enjoying candy while running such a grueling race seems counterintuitive, but that instant energy plus prep time in a sauna paid off. In 2010, Gingerich beat out 79 others to earn a prestigious first-place finish, having covered 135 miles in a total of 24 hours, 44 minutes, and 48 seconds.
Gingerich looks back on the Badwater Ultramarathon as "definitely one of the most punishing" races he's ever attempted. In the end it wasn't about receiving a Badwater 135 Ultramarathon T-shirt, hat, and commemorative belt buckle. It was about digging deep and testing the limits of human endurance.
"But for all of the suffering during this race, " he says, "the experience and the park are really amazing."
For more information and reservations, visit oasisatdeathvalley.com/ or call 800-236-7916.
For travel experiences available from Xanterra Parks & Resorts and its affiliated properties, visit xanterra.com/explore.
WRITTEN BY: GARY McKECHNIE
---