The 102 Anniversary of Death Valley's Hottest Day
July 10 marks the 102 anniversary of the hottest recorded temperature in the world. In 1913 in Death Valley, temperatures reached a stifling 134° Fahrenheit (57° Centigrade). It's true that the valley's desert climate is hot during the summer months, although that extreme temperature has never been repeated. Many brave tourists visit us this time of year to experience the intense heat before cooling off in our spring-fed pools.
Death Valley may be famous for its heat, but, did you know that temperatures are mild and comfortable here during the fall and winter months? The average daytime temperature from late-October to February is between 60- 80° Fahrenheit (15-26° Centigrade), with cool nightly temperatures in the 40s and 50s (4-10° Centigrade).
Warm winter temperatures make Death Valley the ideal location to escape winter's chill and hike or explore the park on a bike rental or via horseback. Visitors can also indulge in our Historic Four-Diamond Inn, which opens early October to May during our busier, cooler season.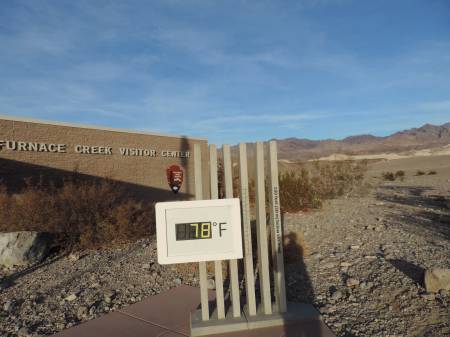 ---