What Guests Can Expect During Our Revitalization
The Oasis at Death Valley, formerly known as Furnace Creek Resort, a true American oasis and one of Death Valley's best-kept secrets, is undergoing a well-deserved restoration and renovation over the course of 2017 and the first half of 2018. This will include The Inn, The Ranch, the Golf Course and public access spaces. Major improvements and positive changes focused on sustainability and the environment, accommodations, amenities, facilities, and accessibility will temporarily disrupt areas of the destination until further notice. The Inn at Death Valley is currently closed, but will reopen winter of 2017/2018.
Ranch Guests
During your stay, temporary solutions will be in place for guest registration, which has been moved to the old firehouse building, and the General Store, which has been moved to the Golf Pro Shop. In addition to these temporary registration and shopping solutions, Ranch guests will also need to use the road for the Furnace Creek Golf Course to enter the property. Guest registration can be reached by taking a left on Zabriskie Blvd. after turning onto the road for the golf course. After your turn onto Zabriskie Blvd. the registration building will be the first building on the right in the historic firehouse. While you should still expect the same level of service, please be mindful that these solutions are temporary. For any questions, information or help, please feel free to speak to the front desk.
Ranch Dining Menus:
Date Grove Diner (Breakfast)
Date Grove Diner (Lunch and Dinner)
Affected Areas
The area under construction is isolated to one corner of the oasis and is not adjacent to any rooms or recreational areas. For a detailed look at the affected area, please consult the map below: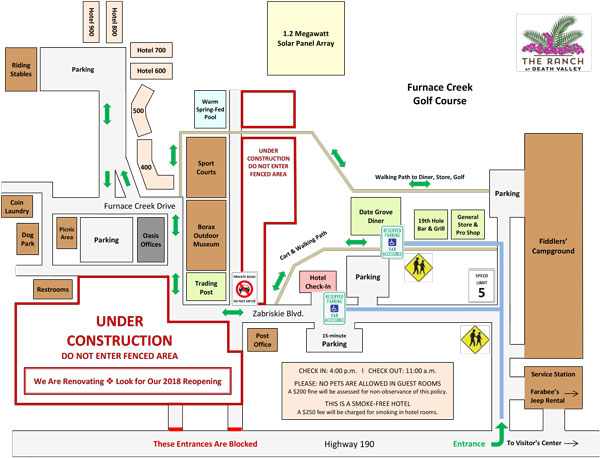 Activities for Your Stay
Despite the current project, all of our activities are still available to be enjoyed. Whether it's taking a dip in one of our spring-fed pools, renting a Jeep to explore Death Valley National Park's backroads or playing a round of golf at the lowest course on Earth, there's something for everyone at Furnace Creek. For a full list of activities, please consult our activities page.
Want to Learn More?
For more information and to stay up to date on the exciting changes that are coming to our true American oasis, feel free to check out our Revitalization News page for the latest information and updates.