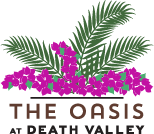 You don't come to Death Valley because abundant life flourishes here. Which is exactly why an oasis in the middle of it is so special. Only here can you stroll among lush date palms, float the day away in one of our spring fed pools or disappear into the exhilarating landscape of one of America's largest national parks, and still return in time for a memorable dinner – and a sunset you'll never forget. Only here will you find the Historic Four-Diamond Inn at Death Valley, completely renovated with the look and feel of a 1920's inn, but the amenities and details expected by the modern upscale traveler. Or the family friendly Ranch at Death Valley – perfect for all types of adventurers. From the international visitor on a once-in-a-lifetime trip to America, to the group riding motorcycles or driving classic cars through the park's scenic byways, to the long weekend road tripper in a mini van or SUV.
Only here will you find a one-of-a-kind resort, within a one-of-a-kind oasis, within a one-of-a-kind national park, sure to give you a once-in-a-lifetime experience. Welcome to the Oasis at Death Valley.
Message Regarding Government Shutdown
Lodges, Restaurants and Services Will Remain Accessible in U.S. National Parks. Roads Will Be Accessible.

Updated on January 19, 2018, at 11:48 a.m. Mountain Time
Our parent company, Xanterra Parks & Resorts, has received word from the U.S. National Park Service that the entrances and roads into Death Valley National Park will remain accessible if there is a government shut down. This means that our lodges, restaurants, retail gift shops and services will be open for business and welcoming guests and visitors from around the world.
If a government shutdown does occur government provided services (visitor center, public restrooms, etc.) will not be available. The National Park Service will provide emergency services, but please be very careful when venturing into the park.
Please check back to this website for the latest information.
Thank you for your patience. We sincerely appreciate your choosing Xanterra Parks & Resorts for your travel needs.