When something is good, really good, it can be hard to imagine better. After an extensive, multi-million dollar renaissance, The Inn at Death Valley is now better than ever. Offering guests unprecedented service and luxury at our natural oasis in the middle of Death Valley National Park has always been our calling card, but our extensive changes have elevated the experience to new heights. While improvements have been made to everything from the floors (new saltillo tile) to the ceiling, we are most proud of these innovations: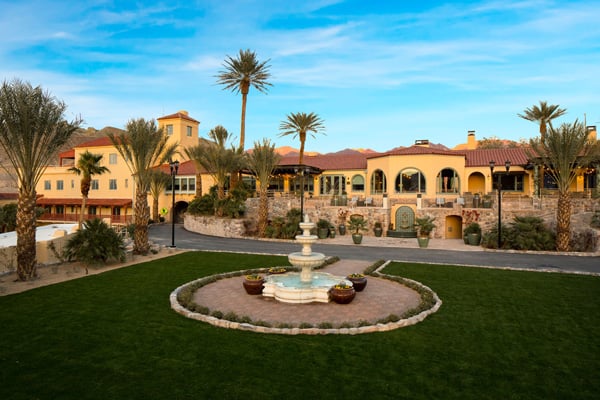 A New First Impression
Roll up the landscaped drive and enjoy the expansive view of Death Valley National Park, the towering date palms and bubbling fountain that springs forth from the natural oasis. What was once only hardscape has been transformed into a lush and inviting experience.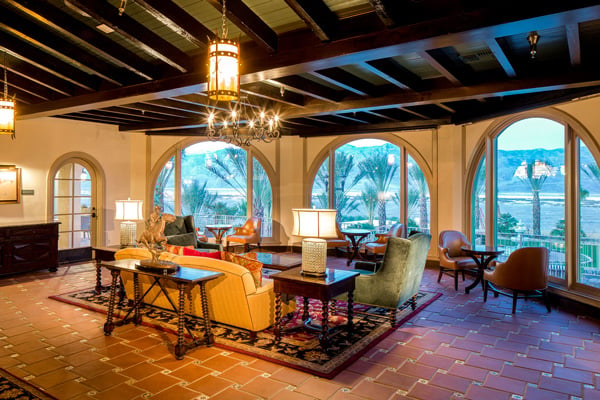 Refined Relaxation
The lounge, lobby, and bar area have all received extensive updates including new furnishings, a completely new bar, and historic paintings that help tell the story of the first pioneers that graced our oasis. In addition to the bar and lounge area, we are pleased to introduce the Inn's Library, the ideal place to lose yourself in your favorite novel (or borrow one of ours) while taking in astounding views.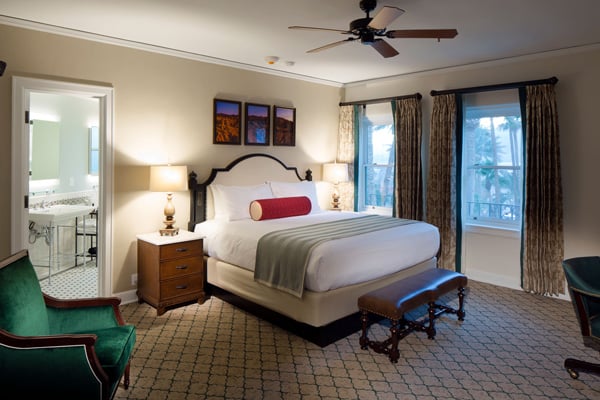 Refreshed Rooms
Old-school ambience marries modern style and amenities. You'll be tempted to settle in but, there is so much more to savor.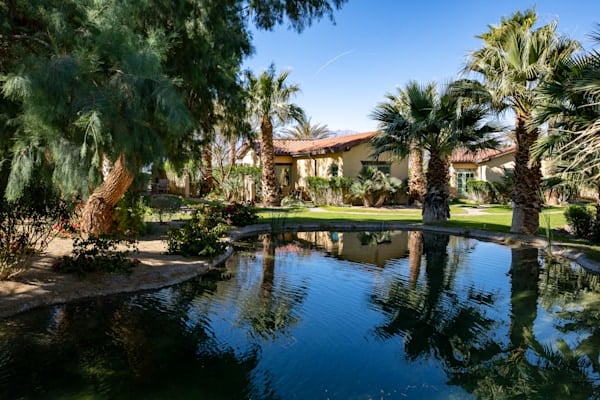 Casitas
Discover unmatched privacy and luxury in the shadow of the Oasis Gardens' date palms. Enjoy your favorite cocktail while you hear the wind rustle through the palms overhead.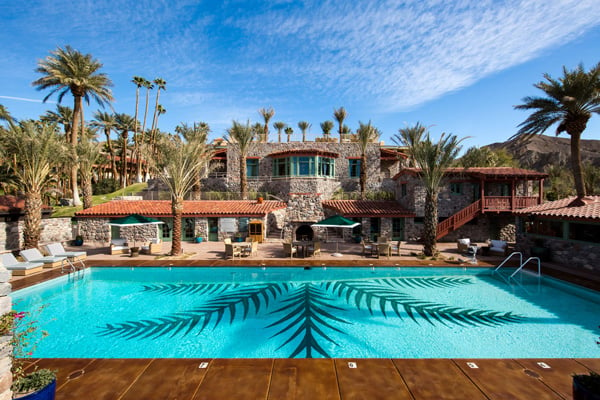 Same Spring-Fed Pool, Enhanced Poolside Services
The historic, tiled pool is a welcome throwback. Soak in the spring-fed waters, sample the treatments offered in the new and nurturing spa, and seek midday shade under the cabanas. If so inclined, step into the state-of-the-art fitness center and keep your fitness goals on track.
The Inn isn't your cookie-cutter hotel of today. This classic beauty has many different types of rooms based on the location of the room within the hillside lodge.
Standard King Rooms
Our Standard Rooms take advantage of the views over the Oasis Garden, desert vistas or Panamint Mountains and have a king bed. All rooms have a 3/4-bath with a shower only. These rooms may be located in either the Main Tower, or on the Terrace Level above the pool.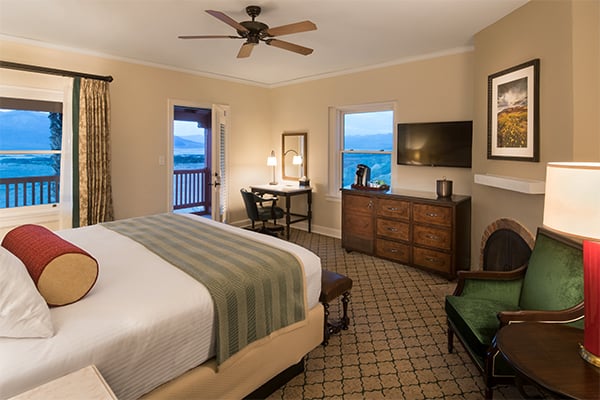 Deluxe King Rooms
The Deluxe King rooms are slightly larger rooms that take advantage of views over the oasis garden, desert vistas, or Panamint Mountains. These rooms feature 1 King bed, 3/4 bath with shower and a decorative fireplace.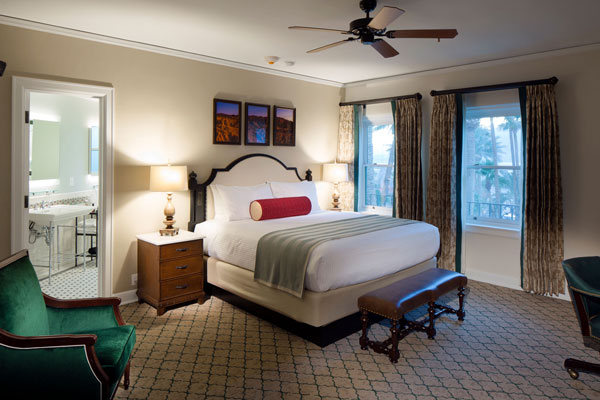 Standard Hillside Room – King
Our Standard Hillside Rooms are ideal for intimate weekend stays. These non-view rooms feature a king bed with a 3/4 bath with a shower only.
Suites
Our one-bedroom suites include a king-sized bed, and the added space of an attached living room for entertaining or relaxing. All suites have a 3/4 bath with a shower only.
Pool Bungalow
Our Pool Bungalow gives you the luxury of being just steps away from our spring-fed swimming pool, as well as a splendid view of the Death Valley desert. This stand-alone room also includes a queen bed and 3/4 bath with shower only. The solid stone walls sourced from the surrounding desert and vaulted ceiling offer a unique lodging experience.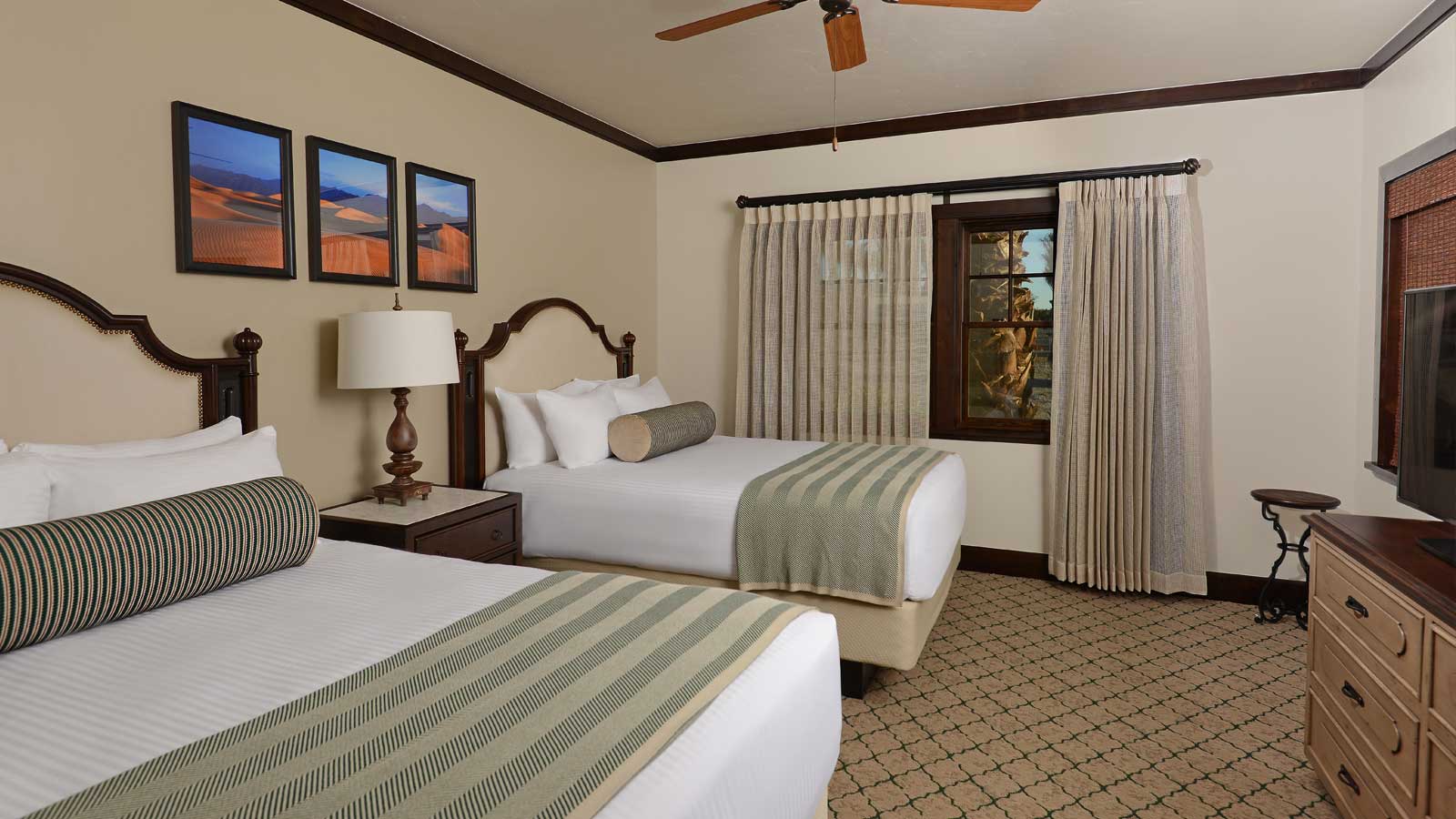 Casitas
Located in the shadow of the Oasis Gardens' date palms, the Inn's Casitas offer unparalleled privacy and luxury within easy walking distance of the Inn pool. Each Casita comes with a golf cart for guests to use to get around the property (cars cannot get down to these rooms) as well as room options with either 1 King bed or 2 Queen beds. In addition to the main sleeping quarters, each Casita also has a living room with a sleeper sofa as well as a wet bar – perfect for fixing your cocktail of choice while you hear the wind rustle through the palms overhead.
Accessible Rooms
Accessible rooms with roll-in showers are available. To see available ADA-compliant rooms, please check the "ADA/Accessible Rooms" checkbox in the online reservations application or call Central Reservations at (800) 236-7916.
Make the Most of Your Stay
We offer a selection of guest services and amenities that will help make the most of your stay in Death Valley National Park. Here's a quick list of services and amenities available at our lodging facilities, available for all guests to enjoy.
Guest Services
Bell Services
Airport Transportation to Furnace Creek Airstrip
Parking for Cars, Buses
Business Services – fax, photocopy and shipping assistance available at Front Desk
Bilingual Service
ADA Compliant Accommodations
Room Amenities at the Inn
Non-smoking rooms
Air conditioning and ceiling fans
Television with access to over 60 satellite TV and movie channels
Telephones with data ports and unlimited local and 800 calls
Complimentary wireless Internet access
Terry robes in guest rooms
Refrigerator
In-room coffee maker
Hair dryer
Modern bathrooms with bathroom amenities
Iron and ironing boards
Electric clock
Rollaway or crib permitted for an extra charge of $20.00 – some rooms are unable to accommodate due to the size or layout of the room
Health & Recreation
At the Inn there are two tennis courts and at the Ranch you will find basketball, volleyball and tennis courts
Exercise room (Inn guests only)
Hiking
Massage Therapy (seasonal) at the Inn, a professional massage therapist provides a wide variety of services including Swedish, warm stone and reflexology. For those who want to indulge in true relaxation, revitalize your body and spirit by trying one of our spa treatments. To avoid disappointment, advance reservations are recommended. Please call (760) 786-2345 ext 120 to reserve your relaxation experience.
Sauna (Inn guests only)
Spring-fed swimming pools at both the Inn and Ranch
An Oasis in the Desert
Like many great national park hotels, the historic AAA Four Diamond Inn at Death Valley was financed and built by a company in an industry not directly related to hospitality. Unlike the great lodges built by the railroads in several of our famous parks, however, the Inn was built by a mining company.
In the 1920s, the Pacific Coast Borax Company followed the lead of the successful Palm Springs Desert Inn and entered the tourism business by building a magnificent Inn for guests to enjoy the rare beauty of Death Valley.
The historic Inn at Death Valley was built in 1927 by the Pacific Coast Borax Company as a means to save their newly built Death Valley Railroad.
The Inn opened for business on February 1, 1927 with 12 guest rooms, a dining room and lobby area. Room rates were $10 per night and included meals.
Over the following eight years additions were constructed and improvements made. In 1928, construction crews added 10 guest rooms, and in 1929 the Travertine Springs were tapped for electricity and water for a new swimming pool. The spring water is still used for irrigating the Inn's gardens and flow-through pool. More rooms were constructed until the Inn reached 66 rooms in 1935.
The Inn was designed by prominent Los Angeles architect Albert C. Martin and landscape architect Daniel Hull. Martin's work includes the first theater owned by Sid Grauman, of Grauman's Chinese Theater fame, as well as the Los Angeles City Hall. Hull designed the master-planned Grand Canyon Village, Old Faithful Lodge and several structures in Rocky Mountain National Park and Yosemite National Park, including the iconic Ahwahnee Hotel.
The 66-room, AAA Four Diamond Inn sits sprawled across a low hill at the mouth of Furnace Creek Wash and features spectacular views of Death Valley and the Panamint Mountains to the west. The Inn opened in 1927 and was finished in 1935.
Surrounded by mountain ranges, Death Valley features a startling variety of desert environments: pristine sand dunes, huge alluvial fans, eerie salt formations and painted canyons. Its mountainsides and rock formations are a geologist's fantasy come true. The clear desert air highlights nature's art at every turn, from the glittering saltpan basin to the snow-capped Panamint Range high above Death Valley's floor. Ancient peoples inhabited the area when the valley floor was a huge lake. The passage of time has turned this lake into the lowest, saltiest place in the Northern Hemisphere. To some, the newly named Death Valley was an obstacle in the path toward the California gold fields. To others, it promised riches beyond belief in ore and minerals. In 1933, in recognition of its striking wild beauty, this unique desert wilderness was designated a National Monument. Today it is a National Park.
The Inn's location was well chosen but rather conspicuous. As the National Park Service reports, in less skilled hands the Inn could have been a visual imposition on the otherwise natural landscape, but Martin and Hull created a masterpiece in harmony with history and scenery. Their design incorporated red tile roofs, stucco exteriors, archways, arcades and a tower all inspired by the old Spanish Missions on the California Coast.
The Inn's wings wrap around a lovely garden of palms and flowing water, a nod to both mission courtyards and the Hollywood image of a fantasy desert oasis. The lower levels constructed of local stone seem to be a natural extension of the alluvial fan pouring out of Furnace Creek Wash. The colors of golden stucco, russet roof tiles and turquoise window trim all match the badlands at Zabriskie Point and Artists Drive.
Rates
Your deposit guarantees the first night's room rate. Any increases to the room rate after your reservation is confirmed will apply to all additional room nights. Any modifications to your reservations may result in the entire stay being subject to the new applicable rate.
Unless otherwise noted, the rates apply per room, per night, based on double occupancy.
Rates may vary during holidays and blackout periods.
Additional Adults are $20.00 per person, per night.
Rollaway beds are $20.00 per night (not available for use in all room types)
Rates do not include 12% room tax.
All rates subject to a $28.00 per room, per night Resort Fee, which includes the following services and amenities:

Complimentary valet parking
Complimentary use of electric car charging stations
Use of sport courts and associated equipment (basketball, tennis, shuffleboard, bocce. Golf is not included)
In-room digital access to The New York Times
Utility surcharge

Taxes and surcharges are subject to change. All room rates are subject to applicable taxes and/or surcharges.
Rates are stated in US dollars.
Reservation Policies
We are currently accepting reservations for stays up to 13 months in advance. On the first of each month, we will begin accepting reservations for the entire month of the following year.
Advance reservations are strongly recommended. We regret that we cannot offer a waitlist for accommodations.
The majority of our rooms are available to book via our online reservation system. Please use the reservation form on the left side of this page or read more about Making a Reservation
Reservations for individuals may be made for up to nine rooms.
Ten or more rooms for the same stay is considered a Group, and these requests may be submitted to The Oasis at Death Valley Group Sales office 760-786-3354. Read more information about Groups.
When sending any correspondence via fax or email, please be sure to include complete information concerning your request, including name, billing address, phone number, email address (or fax number) to expedite a response.
Deposits
In order to reserve a room, a deposit equal to the first night of your stay (plus tax) is required on each room within seven days of making the reservation. If arriving within 14 days, a credit card deposit is required to make a reservation. You may use a Discover, JCB, American Express, Carte Blanche, Diners Club, MasterCard or Visa and we will charge your credit card upon completion of the reservation.
The deposit will guarantee your room reservation for an arrival beyond 4:00 p.m. Please note, the deposit will guarantee the reservation and the first night's room rate only. Any increases to the room rate after your reservation is confirmed will apply to all additional room nights. Any modifications to your reservation(s) may result in the entire stay being subject to the new applicable rate.
Modify or Cancel Your Reservation
If your plans change, you may receive a full refund of the deposit provided you cancel the reservation and obtain a cancellation number at least two days prior to the designated check-in time and arrival date. If making a reservation within two days of arrival, the deposit is immediately non-refundable.
If you cancel your reservation less than two days prior to arrival, your deposit will be forfeited.
Please call us if canceling a reservation within five days of arrival. Cancellation requests beyond six days may be done via e-mail.
At this time, only reservations that were originally booked online may be modified or canceled online.
Please note that refunds will not be issued for cancellations due to inclement weather.