Let the pros guide you at our Furnace Creek Star Party!
Did you know Death Valley National Park has some of the best stargazing on the planet? That's because Furnace Creek Resort, in partnership with the National Park Service, obtained a "Gold Tier" Dark Sky Park Certification from the International Dark Sky Association.
If anyone appreciates the lack of light pollution in the park it's John Heller, a member of the Las Vegas Astronomical Society. Heller, alongside other members of the LVAS, graciously host an event called "Tonight's Sky" a star viewing party at The Furnace Creek Golf Course at Death Valley every winter to spread their love and knowledge of the stars and planets with others. Join us January 27-28 at 8 p.m. for the next event and book your room .

When did you develop a passion for astronomy?
I became interested in astronomy before I was a teenager, during the Apollo space program. I wanted to learn more about the moon and the proposed landing locations. I had a wall-sized moon map in my bedroom. When my parents gave me my first telescope for Christmas, the moon wasn't up that night, so I managed to find Saturn using a finder map from a little Golden Book. When I viewed Saturn through that 4 1/2″ Tasco telescope, I was absolutely awed.
What makes Furnace Creek Resort a great place to stargaze?
First and foremost, it is dark. It is far away from any significant urban "light domes", and both Xanterra and the National Park Service have made deliberate efforts to reduce light pollution around Furnace Creek. Other great attributes are the moderate weather eight months of the year and the great venues for setting up telescopes. The most recent location at the golf course has worked out very well.
Can you describe what occurs at a typical Star Party at Furnace Creek, hosted by The Las Vegas Astronomical Society?
I think "facilitated" by the LVAS might be a better way of putting it. Xanterra and the NPS have hosted the events by providing the venues and advertising them. It's also important to note that many of the participants are not LVAS. During our last star party, we had many participants from California, Along with others from Arizona and Utah. We even had one amateur astronomer who brought an 18" telescope all the way from Seattle to take advantage of the weather and dark skies.
To better answer your questions, we typically hold two-day events over Friday and Saturday near a new moon in October and February. Astronomers bringing telescopes are asked to sign up on the LVAS website so that we have an idea of the number of participants for logistics purposes. Astronomers are allowed to set up on Friday afternoon and scopes are allowed to be kept setup until Sunday morning. On the evening of the event, we begin observing at dusk and there is usually a steady stream of the public coming through until after 9:00. We typically have a couple of hundred people show up to look through the scopes. Astronomers are allowed to observe through the night. Early each evening, one of the astronomers provides a half-hour "night sky tour" to talk about the night sky and to point out constellations and interesting visible objects. On Saturday, we also set up solar observing scopes by the Furnace Creek general store. We usually have a good selection of white light and hydrogen-alpha scopes to allow viewing of both sunspots and solar prominences.
If someone wanted to get involved with the Las Vegas Astronomical Society, what steps should they take?
That's simple, they simply show up at a monthly meeting or an event. The LVAS hold its meetings the first Thursday of each month at the Cheyenne Campus of the College of Southern Nevada in Las Vegas. They can find out about our events by checking the LVAS website at www.lvastronomy.com. If they want to become members, they can join through the website or at one of the meetings.
What is the best stargazing experience you have had at Death Valley?
Dealing with the public has a lot of "bests". Hearing the "oohs" and "wows" when people look through the eyepiece is always satisfying. For a lot of people, it is their first time looking through a telescope – especially with all of the foreign visitors that come to Death Valley. I like thinking that I am giving them a unique experience when they climb the ladder to view through my 25" reflector. At one October event, I was out until dawn in shorts. The winter Milky Way can be an amazing sight in Death Valley. What impresses me, as an astronomer, about Death Valley is how good the seeing can be below sea level. I don't know if it's from being in the shadow of the Sierra Nevada Mountains or some other phenomena of the location, but there are times when the transparency and seeing are as good as many of our higher altitude dark sky sites.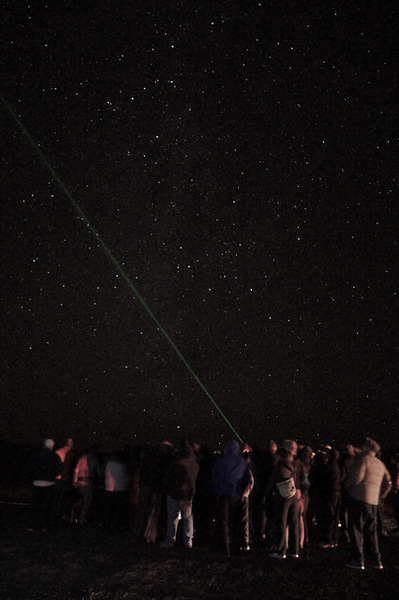 Other than Death Valley National Park, what other places do you enjoy visiting to take in the night sky?
I've enjoyed many southwest observing sites over the 15 years that I've lived in Las Vegas. The Grand Canyon, at 7000 feet on the South Rim and 8000 feet on the North Rim can be absolutely sublime for summer observing. Grand Canyon National Park hosts a star party each June that LVAS supported for a number of years. Great Basin National Park started doing annual star parties about six years ago, and we went there for the first few years. For a number of years, we went to the Grandview Campground, near the Ancient Bristlecone Pine Forest east of Bishop, CA. Perhaps the darkest skies I have ever seen were from Belmont, NV and tiny old mining town about an hour northeast of Tonopah, NV. There is no commercial power to the town and the nearest lights come from the Round Mountain gold mine. At 7800 feet the summer Milky Way is so bright that you can see shadows from it. But all of those high-altitude observing sites are way too cold from October to May. Closer to home, we now have an observatory on Mt. Potosi through an arrangement with the Boy Scouts and we can get reasonably dark skies near Echo Bay and Temple Bar marinas out by Lake Meade.
---