The Oasis at Death Valley Closed
Through Sunday, June 14, 2020
All The Oasis at Death Valley operations are being suspended through Sunday, June 14, 2020 due to concerns surrounding COVID-19 (also known as coronavirus). We will keep information updated on this page. We will continue to closely monitor the situation and are currently taking reservations for Monday, June 15 and beyond. You can still make your vacation a reality this year – book in the summer, fall or winter now. Death Valley National Park is a timeless beauty, and you can still make time to experience this magnificent destination this year.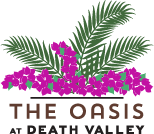 You don't come to Death Valley because abundant life flourishes here. Which is exactly why an oasis in the middle of it is so special. Only here can you enjoy two distinct hotel experiences that have undergone a $100 million renaissance – the historic, serene, and peaceful Four Diamond Inn at Death Valley and the family-friendly, adventure-focused Ranch at Death Valley – the energetic epicenter of this True American Oasis.
Stroll among lush date palms, float the day away in one of our spring-fed pools, or disappear into the exhilarating landscape of one of America's largest national parks, and still return in time for a memorable dinner – and a sunset you'll never forget. Only here will you find a one-of-a-kind resort, within a one-of-a-kind oasis, within a one-of-a-kind national park, sure to give you once-in-a-lifetime memories. Welcome to the Oasis at Death Valley – North America's only true desert oasis.