Call of the Wild in Death Valley
Justly famous for its weather extremes, Death Valley National Park hardly seems like a hospitable place for wildlife. A 134˚ F reading in July 1913 earned the valley the dubious honor of the hottest place on Earth, and, with average annual precipitation less than two inches, it's also considered the driest spot in North America. No rain fell at all in 1929 and 1953.
Yet Death Valley is anything but lifeless. From autumn into spring, the weather is positively heavenly. And a remarkable range of creatures, both great and small, have either adapted to summer's harsh conditions or find refuge in Death Valley's diverse habitats. Not merely barren desert, the park also encompasses spring-fed natural oases, pinyon-juniper woodlands, and even pine forests.
Remarkably, more than 400 animal species are native to the park, including dozens of reptiles, 51 different mammals and, amazingly, even six kinds of fish. You never know what you'll see, so keep your eyes open for roadrunners zooming across the highway and coyotes feeding on fallen fruit in the date palm groves of The Oasis at Death Valley.
The resort with its two hotels — the historic, AAA Four Diamond, Inn at Death Valley and the family-oriented, Ranch at Death Valley — is a great base from which to view wildlife in the park. And when you're not chasing critters, you can enjoy the natural spring-fed pools, an 18-hole golf course, horse and carriage rides, and world-renowned star-gazing.
Here's a look at some of Death Valley's wildlife, as well top destinations to catch a glimpse of its hardy animals. While there are no guarantees that you'll spot any creatures, a few tips may come in handy.
Go out around dawn or near sunset when animals are active. Most of the park's animals are nocturnal.
The park's scattered water sources, including Darwin Falls, draw a wide range of animals.
Carry a small pair of wide-angle binoculars. You'll have a better chance of seeing animals and are less likely to disturb them by keeping a respectful distance.
Blend into the environment. Wear subdued colors, keep your voice down, and limit movements. When possible, choose a spot that offers a wide view and stay put.
Never approach or feed animals.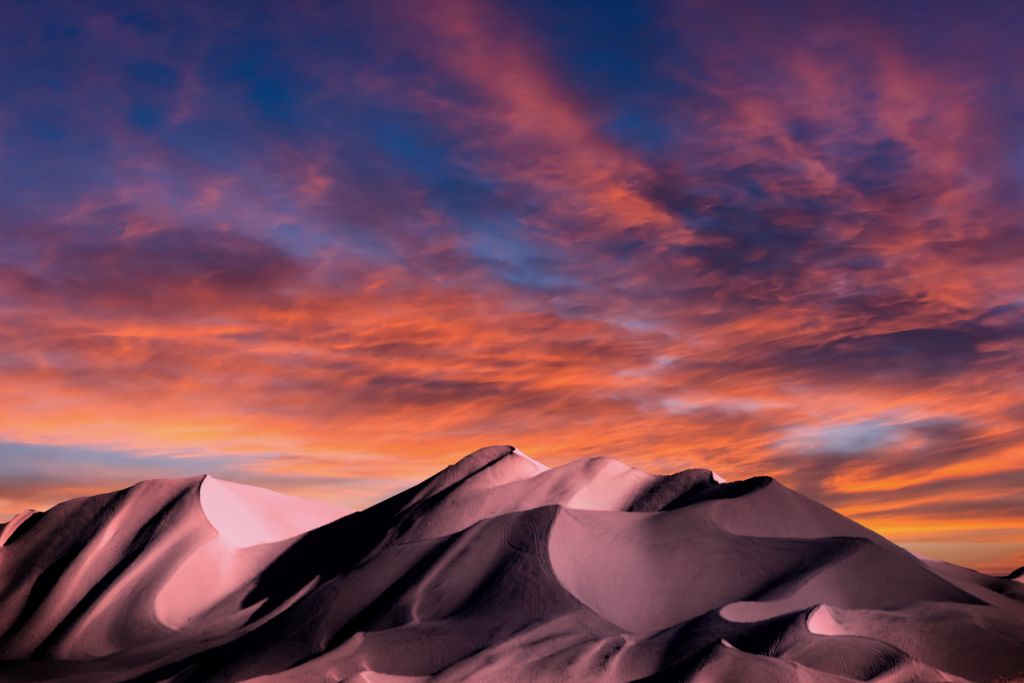 Mesquite Flat Sand Dunes
Though seemingly barren, scattered stands of mesquite in this expanse of dunes near Stovepipe Wells provide shelter and habitat for a number of different animals, including coyotes. Even if you don't spot any creatures, you can still get a sense of wildlife in the dunes because the sands provide a unique record of animal activity. Especially if you get out shortly after sunrise — before your fellow visitors begin traipsing in the sands — you might spot tracks etched by cat-sized desert kit foxes and kangaroo rats, which use their powerful hind legs to hop like their marsupial namesakes. And if you notice a weird sequence of parallel marks in the sand, those were left by sidewinder rattlesnakes.
Klare Spring in Titus Canyon
The largest of the park's native animals, desert bighorn sheep are found at all elevations, especially near water sources. They do, however, pose a couple challenges. The sheep can be rather shy and their coloring allows them to easily blend into a tawny background of desert sands and rock. One trick for spotting bighorns is to look for something white that appears to be moving. That's because the sheep have tell-tale white rumps. Klare Spring in Titus Canyon is considered one of the more dependable places to see bighorns in the park.
Slat Creek Interpretive Trail
The most surprising animal in Death Valley? It must be the Salt Creek pupfish, a tough little inch-long creature found nowhere else in the world. These pupfish are a remnant of the Ice Age, when a body of water called Lake Manly filled the valley to a depth of 600 feet. Now the fish are confined to this creek, which you can explore by following a quarter-mile boardwalk that protects the fragile streamside environment of pickleweed and salt grass. The pupfish are most active during the spring mating season, and the creek and marsh habitat is also one of the park's prime birding spots.

Devil's Hole/Ash Meadows National Wildlife Refuge
Take an easy hour drive from Furnace Creek out California 190 to Devil's Hole, a detached 40-acre unit of the national park adjacent to Ash Meadows National Wildlife Refuge. Just over the border in Nevada, Devil's Hole is home to another pupfish species that's considered one of the rarest fish in the entire world. No more than 500 Devil's Hole pupfish live in this water-filled cavern. These pupfish have been isolated from other populations for as long as 20,000 years. Access is strictly limited, but bring binoculars so you can peer down into the hole to try and spot the pupfish.
Be sure to also explore the refuge, which has an impressive contemporary visitor center. A .9-mile boardwalk leads from the center and across marshland to beautiful Crystal Spring, a brilliantly blue pool. You'll be able to see another species of pupfish and the boardwalk provides an outstanding viewing platform to search for blacktail jackrabbits, bobcats, roadrunners, and other animals that frequent the area.
This desert oasis is so unique that The Nature Conservancy declared, "Ash Meadows is one of the most important natural areas on the North American continent."
For information and reservations at The Oasis at Death Valley, visit oasisatdeathvalley.com or call 800-236-7916.
For travel experiences available from Xanterra Travel Collection® and its affiliated properties, visit xanterra.com/stories.
Written By: Matt Jaffe
Specializing in California, the Southwest, and Hawaii, Matt Jaffe is an award-winning former senior writer at Sunset magazine and contributes to a variety of publications, including Los Angeles, Arizona Highways, and Westways. His books include The Santa Monica Mountains: Range on the Edge and Oaxaca: The Spirit of Mexico.
---