Easy Rider: Death Valley by Motorcycle
Two-wheeling it through this national park is an otherworldly experience
I began riding motorcycles as a teenager and, in the years since, I've explored 46 of the Lower 48 states by motorcycle, took a two-wheel tour of the Alps, wrote a book about exploring America by motorcycle, followed the 1914 path of Erwin 'Cannon Ball' Baker on the San Diego-New York City Cannon Ball Centennial Ride, and have repeatedly been punished by wind, rain, snow, and ice on my bike.
But I've never experienced anything like Death Valley. Never.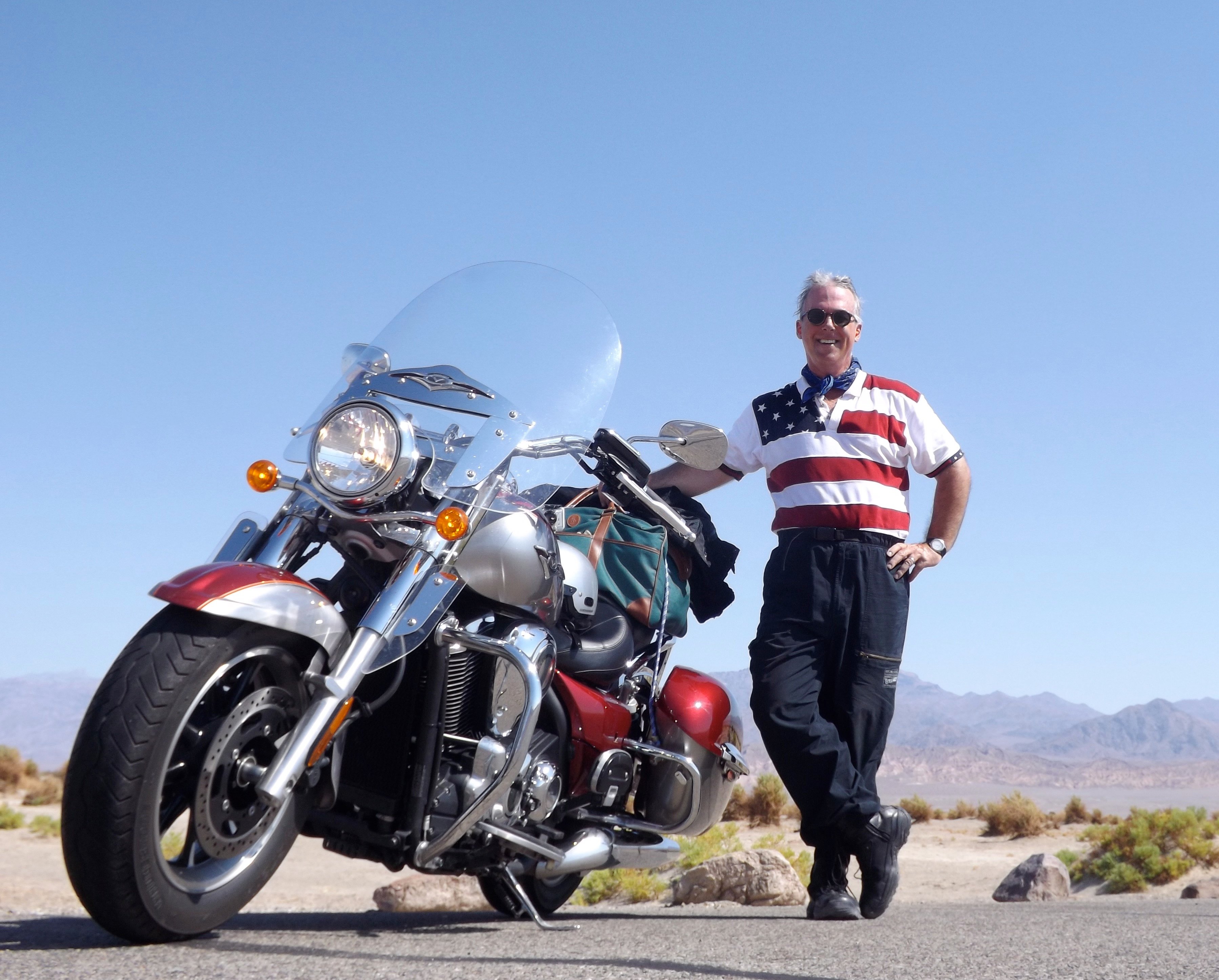 The Road Ahead
There are roughly three million miles of roads in America, but one of the most demanding stretches of all is the 225 miles between Las Vegas, Nev., and Lone Pine, Calif. — especially the 85 miles between Death Valley Junction and Panamint Springs, Calif. This is where a two-lane road hauls you up and over jagged peaks, drags you down into the pit of the valley at 280 feet below sea level, and then rakes you around switchbacks, twisties, and dips while forcing you uncomfortably close to sheer drops where guard rails are noticeably absent.
I first rode Death Valley in a night so black it would make a photographer's darkroom look like a Technicolor cartoon. The next crossing was in a morning heat so powerful I feared my motorcycle would melt into the pavement. On a Death Valley ride your heart may pound as fast as your pistons.
The upside? Every mile pumps your heart full of high-octane adrenaline while simultaneously elevating your spirit. I'm not alone in this observation. After crossing Death Valley on a San Francisco-Las Vegas ride, actor Dennis Hopper observed it was one of the most spiritual experiences he'd ever had. And The Walking Dead's Norman Reedus recently made this ride for his new motorcycle road-trip series on AMC, Ride with Norman Reedus.
Here's a taste of what you'll discover on a two-wheel Death Valley crossing.
Leaving Las Vegas
Gearing up for the ride in Las Vegas makes sense, if only for the chance to stock up on accessories that'll make the ride more tolerable (water, sun block, ice packs). Leaving Las Vegas en route to Death Valley also gives you a taste of what lies ahead by taking you to the Red Rocks Canyon National Conservation Area, a 13-mile loop road that introduces you to the Keystone Thrust, where sandstone peaks and walls rise up to 3,000 feet high.
Filled with photo ops, the canyon may dig into your day. If that happens, don't try to rush through Death Valley. There are steep mountains and treacherous roads ahead, and trying to tackle them after dark is the last thing you want to do. Plus, at 3.3 million acres, Death Valley is larger than Connecticut and there's more to see than you'd expect. Whether you launch from Las Vegas or from within the park itself in summer, remember one thing: Start early. Very.
Hot and Bothered
While summertime temperatures can hover around 120 degrees, in July 1913 the mercury rocketed to a record-breaking 134. Hot air is trapped within the valley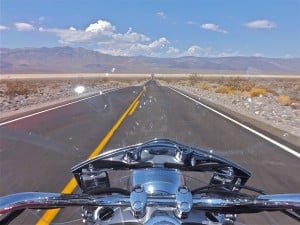 by the Amargosa Range to the east and the Panamint Range to the west and the circulating heat creates a perpetual sauna. The later you start, the warmer it gets.
The Death Valley National Park sign on Route 190 makes a great photo op and marks your arrival into one the most surreal landscapes in America. Ahead, a road splits off toward 20 Mule Team Canyon made famous in Borax laundry soap commercials from the 1960s. In the middle of the Pleistocene Era, the valley was submerged beneath an ancient sea and when those waters evaporated it left behind sodium salt and borax which, about 1.5 million years later, was brought out of the canyon to make clothes whiter than white.
The road to the canyon is tempting and you may want to explore, but there's much more to see in the miles to come. The overlook at Zabriskie Point is indicative of what lies ahead since it reveals why George Lucas chose Death Valley as the alien world of Tatooine in Star Wars. The landscape looks as if it's from another planet.
Several miles ahead, this bewildering vision is mirrored in something equally surprising: a four-star resort.
The Oasis at Death Valley is the lowest resort in America, judged by sea level. It's a true American oasis, where the water literally bubbles out of the ground to create a lush little island of green. With its AAA Four Diamond Inn at Death Valley, family-friendly Ranch at Death Valley, RV facilities, campground, spring-fed pools, and 18-hole golf course (the world's lowest), this is a perfect base for your ride.
Leaving The Oasis at Death Valley is like letting go of a life preserver because as you ride out, all you see over your handlebars is emptiness. Vast, endless emptiness. The view is so strange that while I can usually measure distances to a selected point, in Death Valley dimensions lose all relevance. Once I saw the headlights of an oncoming car I assumed was just a few miles away. Ten minutes later we still hadn't reached each other. On another occasion, I experienced something more unusual.
On a long, arcing curve, the road dropped to its lowest point and suddenly I saw an environment with no cars, no people, no motion. I turned off my motorcycle, took off my helmet, and removed my earplugs. Aside from the pings of the cooling engine, there was absolute and complete silence.
I was in the middle of a 3.3 million-acre sensory deprivation chamber… and it was thrilling. I was on earth, but on another planet. I could have been The Martian.
The Finish Line
Following what feels like endless miles of flatland, the next lifeline is Stovepipe Wells, another oasis that includes lodging, gas and, thankfully, a general store. You'll be amazed at how much water you can consume — especially after riding this far.
After Stovepipe, forget about flats. Between here and Panamint Springs (another oasis with lodging and provisions), you'll face some severe and potentially dangerous dips and twists. The serious shifts on roads marked by steep grades roll on for miles at a time. The lack of guardrails could wreck your day if there's a moment's distraction.
On the plus side, steep drops let you click it into neutral and glide for miles down the slope, taking corners at 60 mph. At each one the elevation adds to the valley's sublime beauty. When the road springs to the top of a mountain range, the pavement wraps and twists around the jagged peaks like a ribbon. On every mile fantastic vistas are your reward for scaling these mountains and crossing Death Valley. The final 40 miles to the Old West town of Lone Pine are relaxing and quiet.
When you reach the town, it's a great place to shut off the bike, put down the kickstand, exult in your experience… and plan your return trip.
For information and reservations at The Oasis at Death Valley, visit oasisatdeathvalley.com/ or call 800-236-7916.
For travel experiences available from Xanterra Parks & Resorts and its affiliated properties, visit xanterra.com/explore.
---
Written by: Gary McKechnie
The author of the best-selling Great American Motorcycle Tours, Gary McKechnie also wrote National Geographic's USA 101 and Ten Best of Everything: National Parks. He lectures on American travel and history aboard the ships of the Cunard, Seabourn, and Silversea lines.
---