From Vegas to Death Valley
From the clamor and glamour of Las Vegas, with its casinos, high-rise resorts, and crowds, you can escape into the serenity and solitude of Death Valley on only a few gallons of gas.
If it sometimes feels like Las Vegas and Death Valley National Park are on separate planets, the reality is that these iconic desert destinations are just two hours apart. From the clamor and glamour of Las Vegas, with its casinos, high-rise resorts, and crowds, you can escape into the serenity and solitude of Death Valley on only a few gallons of gas.
There's no question that the 24/7 Vegas scene can be fun. But it's hardly relaxing. And after a few days on The Strip, you might just crave a little down time so you can rejuvenate before going home. That's why the Oasis at Death Valley (which has just undergone a spectacular $100 million renovation) makes such an ideal side-trip from Las Vegas. It combines luxury with a connection to the natural world that you just won't find anywhere else.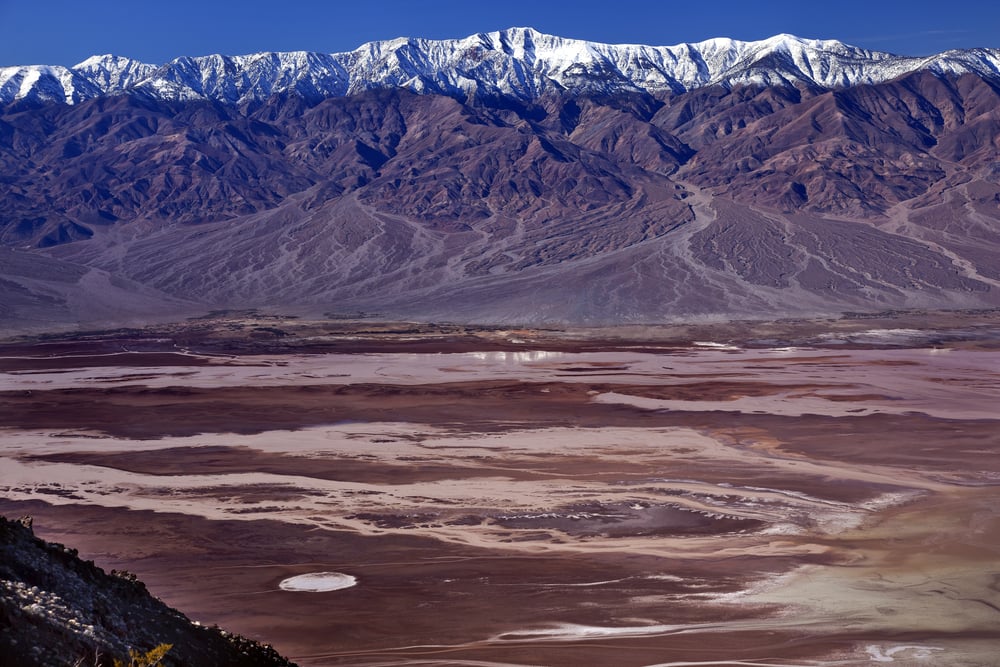 Leaving Las Vegas: The Drive
From The Strip, it doesn't take long to get out the city and into the Mojave Desert. If you want to grab a bite as you drive along Nevada Highway 160, fast-growing Pahrump (the unusual name is a variation on a Shoshone Indian word that means "water rock") has plenty of restaurants, and surprisingly, even a couple of wineries.
Pahrump is pretty much it for towns, except for the historic railroad hub of Death Valley Junction, where you hop onto California 190 for the last stretch to the Oasis at Death Valley. For an incomparable preview of Death Valley, take a detour to Dante's View. A 13-mile paved road (closed through May 2018) climbs to what may be the definitive Death Valley panorama from an overlook more than a vertical mile above the salt pan on the valley floor.
From Dante's View, it's just over 30 minutes to the AAA Four Diamond Inn at Death Valley. You would never mistake this historic luxury hotel for Las Vegas. But many visitors are surprised when they arrive at a verdant oasis of palm trees in the middle of one of the world's most foreboding desert wildernesses.
The Valley vs. Vegas
Just because you've left Vegas behind, doesn't mean you can't enjoy Vegas-quality comforts. But now that you're in Death Valley, you'll quickly discover its distinctive blend of Old West atmosphere and 21st-century amenities.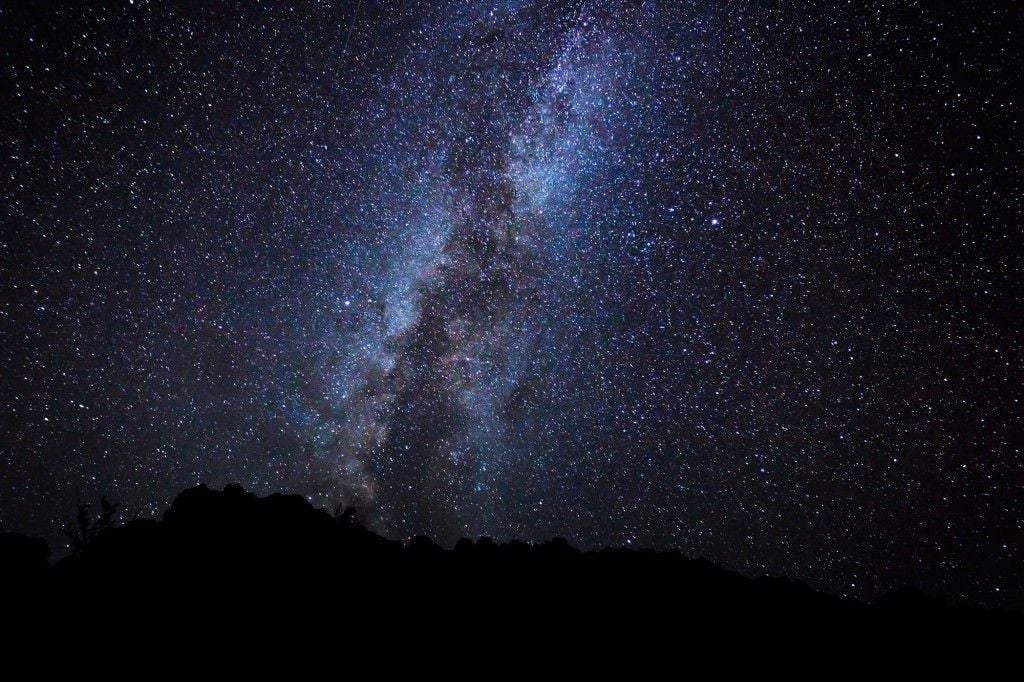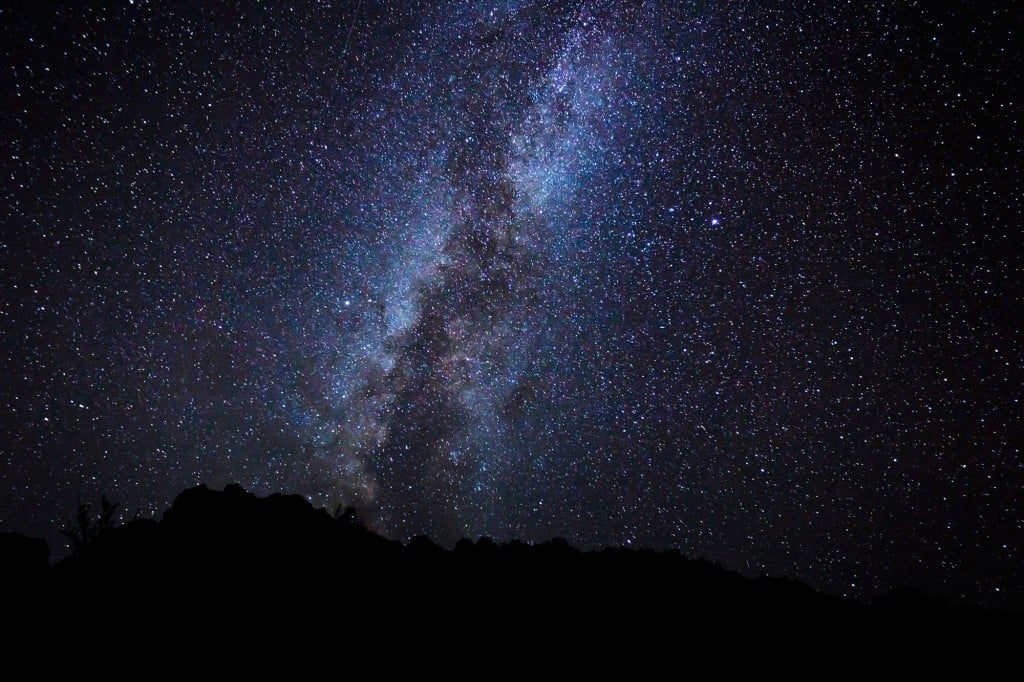 A Different Kind of Nightlife
You've gone from "bright lights, big city" to "dark skies, no cities." In fact, the absence of light pollution has earned Death Valley National Park prestigious designation as an International Dark Sky Park — the country's largest. So sure, there's no neon in Death Valley. But the star-filled skies put on a light show beyond compare. In addition to ranger-led stargazing at the national park during winter and spring, the Las Vegas Astronomical Society hosts complimentary Star Party events at the inn's sister property, the family-oriented 224-room Ranch at Death Valley.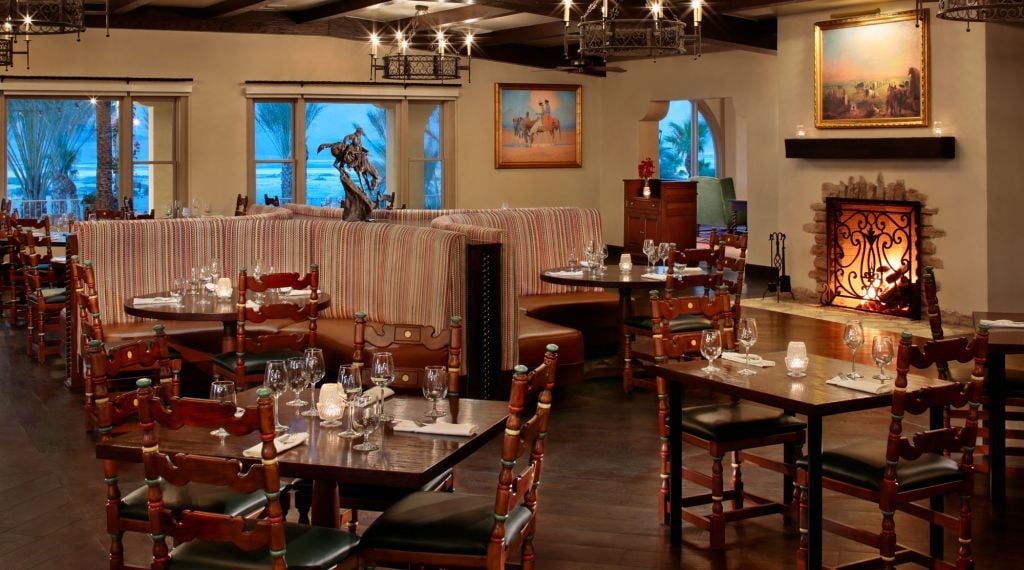 Desert Dining
The newly reimagined Inn Dining Room combines classic Western style with a menu that imaginatively incorporates desert-sourced ingredients to create a culinary experience that's unmistakably of Death Valley. With its wooden ceiling beams and Western artwork from the world-famous collection of Oasis owner Philip Anschutz, the dining room is both relaxed and elegant. But on a beautiful Death Valley night, it's tough to resist a table beneath the stars out on the restaurant's veranda.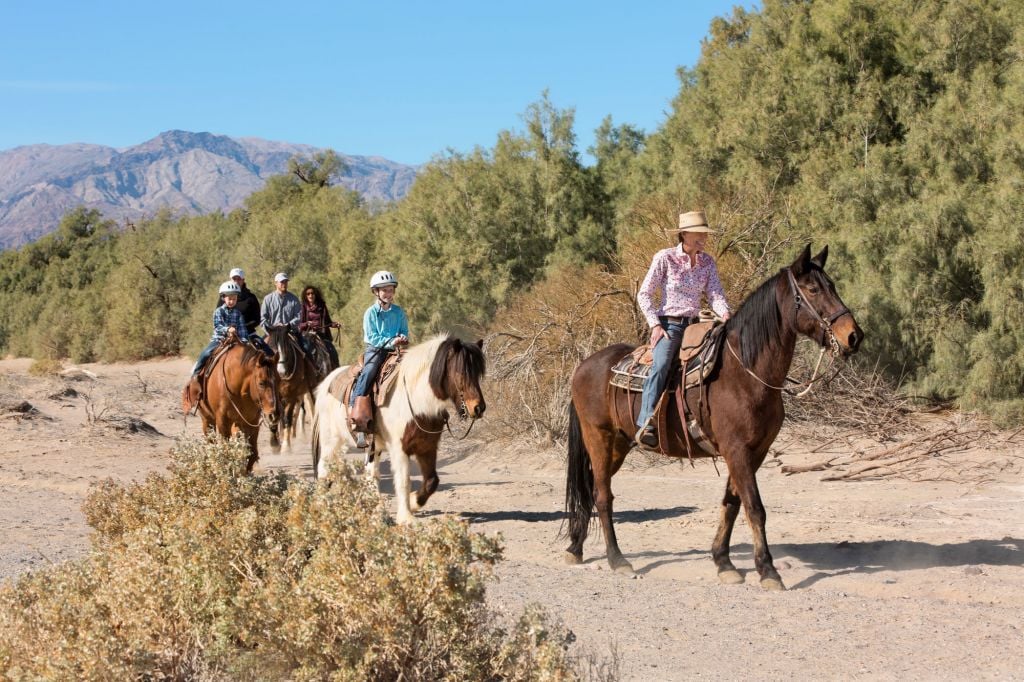 Let it Ride
In Death Valley, "let it ride" has a whole different meaning than it does in a Vegas casino. Furnace Creek Stables lets you saddle up for guided rides, including special sunset and moonlight adventures, into the desert that explore the valley floor and foothills. You can also save your tires and shock absorbers by taking a tour with Farabee's Jeep Rentals into rugged areas of the national park, such as Racetrack Playa, where large boulders have mysteriously moved across and left tracks on a dry lakebed.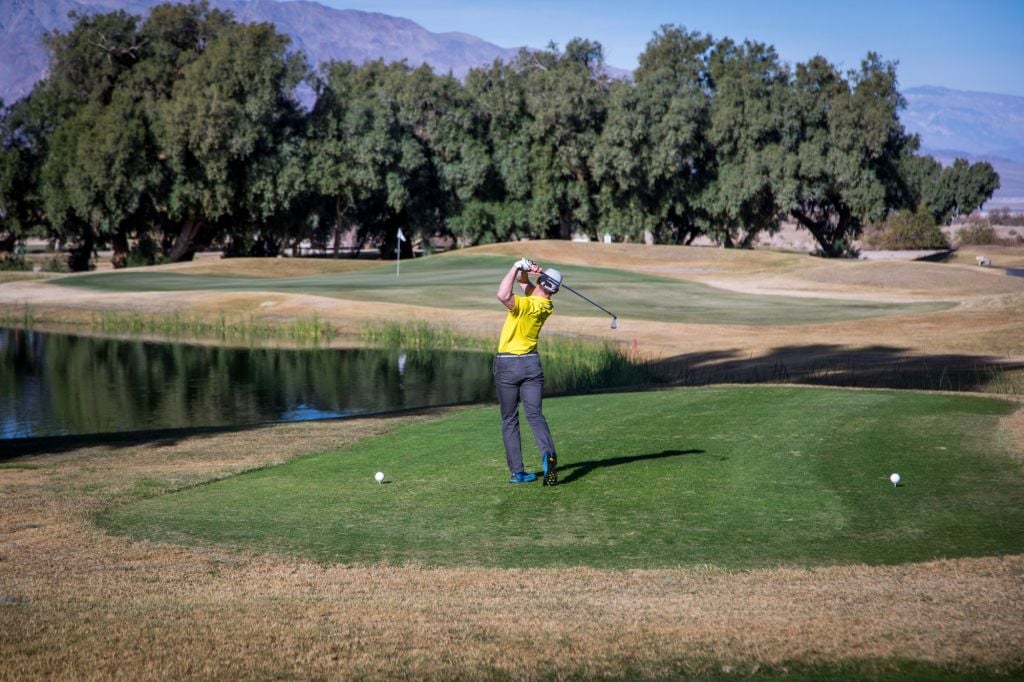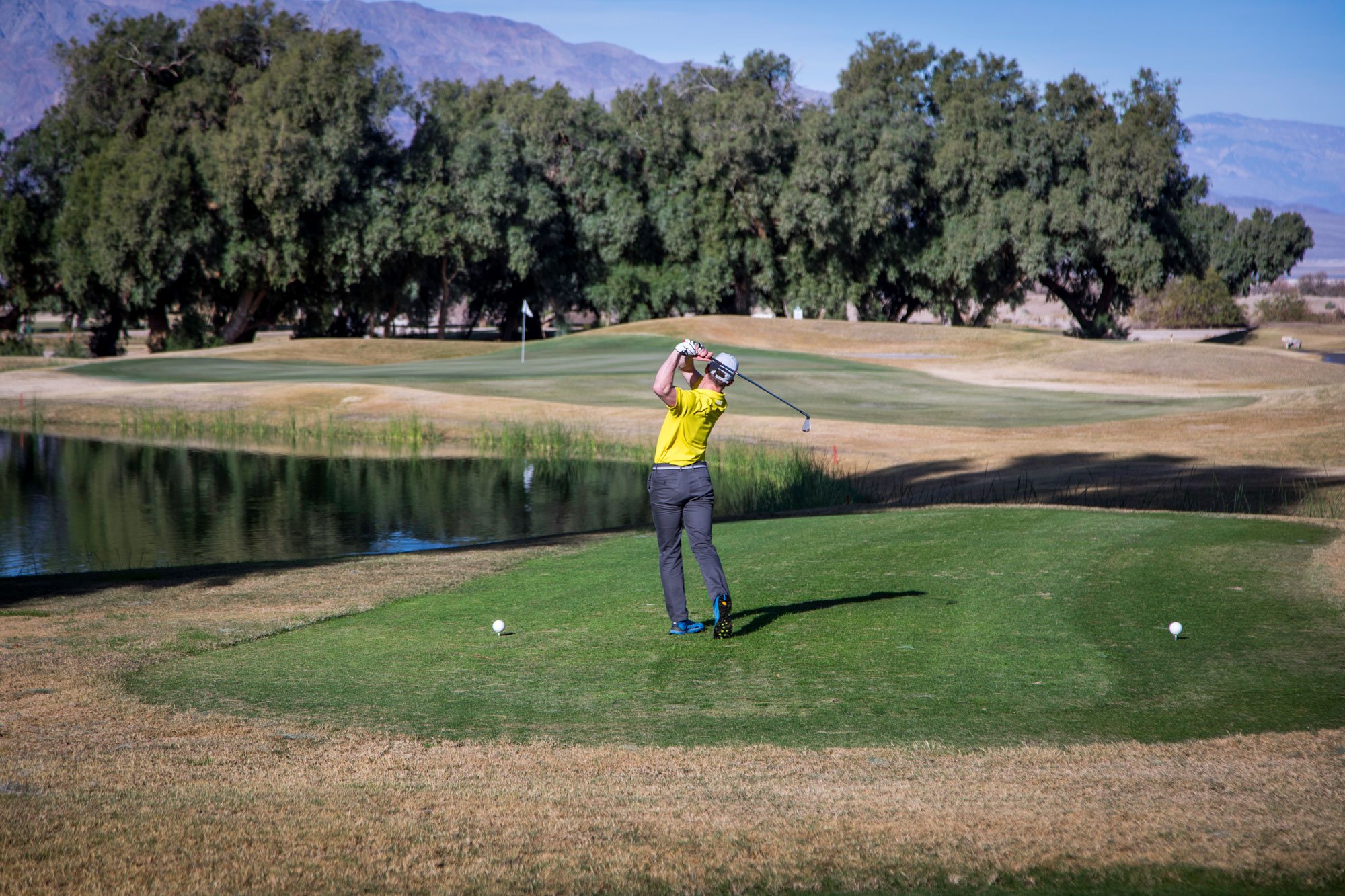 Tee it Up
Las Vegas is known for some of the top golf in the country. But none of its courses can guarantee that you'll play your lowest round ever. Furnace Creek Golf Course at Death Valley can. That's because at 214 feet below sea level, it's the lowest elevation golf course anywhere on Earth. This par-70, 18-hole circuit is no pushover. In fact, Golf Digest named it one of America's 50 toughest courses. With its water features and views of the Panamint Mountains, the beautiful yet challenging design combines with the dense, low-altitude air (which reduces the flight distance of shots) to create a unique test for players of all levels.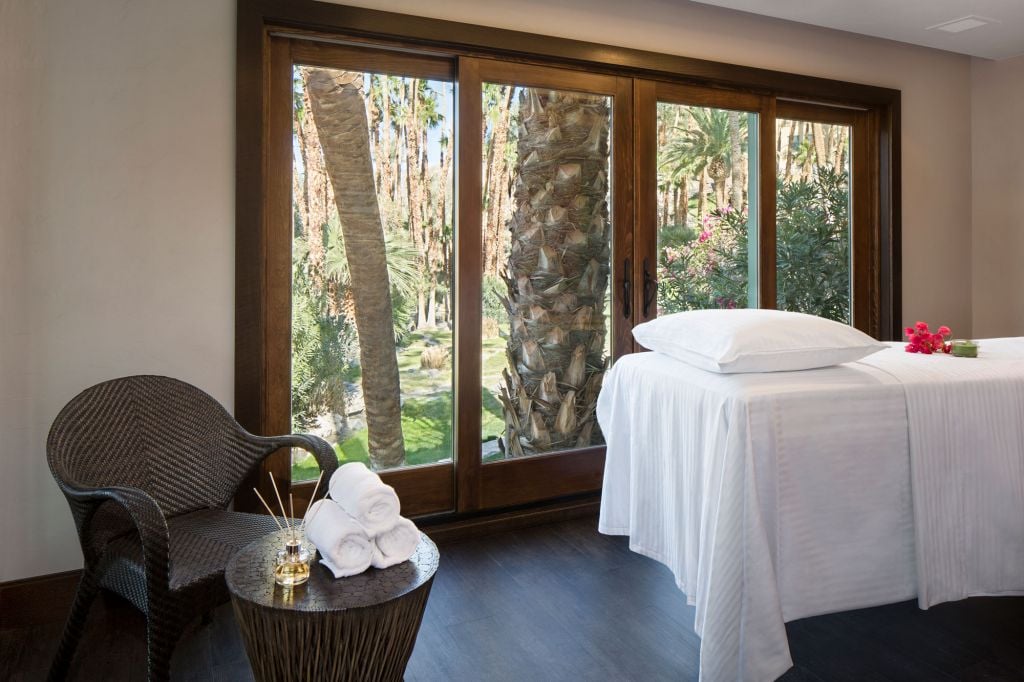 Do Absolutely Nothing
If Las Vegas is all about round-the-clock excitement, Death Valley offers the alternative: total relaxation. Swimming pools at Vegas hotels can be big party scenes but at both the inn and ranch, you can soak up the desert sun and even do your laps in peace. Fed by a natural spring and perpetually 82 degrees, the pool at the inn is better than ever, thanks to new cabanas and a pool bar. Adjacent to the pool, the Inn's Tranquility Spa has also been completely redone. Before or after such treatments as a desert hot-stone massage and an exfoliating salt scrub, bliss out as you relax on a deck overlooking the inn's tranquil gardens — with Vegas' hyper-charged party scene a distant memory.
The Oasis at Death Valley in Furnace Creek is situated in a lush oasis surrounded by the vast and arid desert of Death Valley National Park — just 120 miles northwest of Las Vegas and 275 miles northeast of Los Angeles. The resort encompasses two hotels — the historic Inn at Death Valley and the family-oriented Ranch at Death Valley. The resort includes natural spring-fed pools, a golf course, horse and carriage rides, world-renowned stargazing, and is surrounded by Death Valley National Park's main attractions. For information and reservations, visit oasisatdeathvalley.com or call 800-236-7916.
For more travel experiences to Beautiful Places on Earth™ available from the Xanterra Travel Collection® and its affiliated properties, visit xanterra.com/explore.
---