How to Beat the Winter Blahs at a Desert Oasis
The Oasis at Death Valley may hold the world record for the hottest recorded day (134ºF on July 10, 1913), but with January temperatures in the high 60s, winter is the perfect time to visit and explore this desert oasis surrounded by the beautiful, rugged landscape of Death Valley National Park.
As one of America's few naturally occurring oases, The Oasis at Death Valley (located in Furnace Creek) has a legendary history. The Native Americans knew about its waters (some members of the Timbisha Shoshone Tribe still live on a small reservation adjacent to the resort). The gold-seeking '49ers stumbled upon it on their way to California. And the famed Borax Mule Teams used Furnace Creek as a base camp.
Today, for those who want to experience this unique landscape, as well as the largest national park in the contiguous United States, here are some great winter activities:
Swimming. Built on the grounds of a natural spring in 1927, the historic AAA Four-Diamond Inn at Death Valley is a cool Spanish Colonial-style respite from which to explore the 3.3 million acre national park. One million gallons of fresh glacial water flows out of the ground every day. The naturally heated Travertine Springwater, a comfortable 84ºF year round, fills swimming pools at the resort and at the nearby Ranch at Death Valley. Because the pool water is continually replaced with fresh spring water, there's no need to chemically treat the pools.
Massage. The natural spring also waters a lush Deglet Noor date palm orchard and flowering gardens, where massage treatments, including Swedish, hot stone and reflexology, are offered in addition to the intimate poolside stone-walled treatment room. To make a reservation, call 760-786-2345 ext. 120.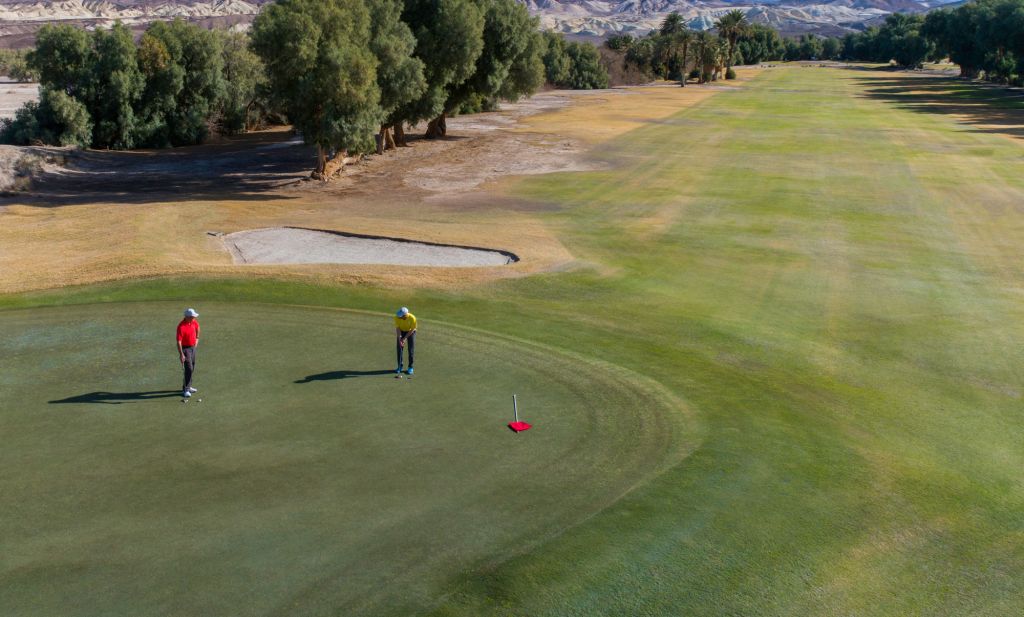 Golf. Add to your bragging rights at The Furnace Creek Golf Course at Death Valley, the lowest golf course in the world at 214 feet below sea level. The spring water is used to irrigate the 18-hole, par-70 course that has open grassy fairways, 40-foot-tall Tamarisk and Deglet Noor date palm trees and water features on as many as nine holes.
Wildlife viewing. As a natural oasis, The Oasis at Death Valley is a haven for wildlife, from the Audubon Society-sanctioned golf course that is on the winter and summer migration routes for many North American birds to the kit fox, desert cottontail, coyotes, and roadrunners that live on or near the oasis.
Horseback riding. Saddle up at Furnace Creek Stables at Furnace Creek Ranch for one- or two-hour rides mid-October through mid-May. Guides answer questions about the area as tours wind through the desert and foothills for sweeping views of the valley. A 45-minute evening wagon ride tours the ranch's golf course and the resort's date palm grove. For more information, visit furnacecreekstables.net or call 760-614-1018.
Jeep touring. Take a Jeep adventure, including visiting ghost towns and abandoned mines, with Farabee Jeep Rentals. The Titus Canyon tour ranges from door-scraping narrows to soaring switchbacks packed with geological and human history. For reservations, visit oasisatdeathvalley.com/plan/farabee-jeep-rentals or call 877-970-5337.
Hiking. Winter is the season for hiking in Death Valley. At the National Park Service visitor center next to the Ranch, learn about easy to difficult hikes within the park, including the colorful Mosaic Canyon and Badwater Basin salt flats, the lowest place in North America. Be sure to practice safe hiking in this rugged terrain. Ranger-led hikes, such as the 7-mile Death Valley Paleontology Tour that leads to Pleistocene-era fossils, are offered as well.
Biking. With hundreds of miles of both paved and dirt roads, road and mountain biking are popular within Death Valley National Park during the winter months. Visitors can rent mountain bikes by the hour or day. Whether you rent or bring your own bikes, resort staff members can suggest scenic rides and safety tips.
Stargazing. Exploration doesn't end at sunset at Death Valley National Park. With its desert-clear air and remote location, the night sky at Death Valley is ablaze with stars. Because it has some of the darkest night skies in the country, it is designated a Gold Tier International Dark Sky Park, the highest level awarded. Ranger-led astronomy tours are offered throughout winter.
Movie site hunting. Death Valley's otherworldly landscape has attracted its share of film productions, most famously doubling for Tatooine in Star Wars Episode IV: A New Hope (1977) and in Star Wars Episode VI: Return of the Jedi (1983). Other films shot here include Oliver Stone's The Doors and Michelangelo Antonioni's Zabriskie Point. Maps and directions are available for those wanting to seek out their favorite film locations.
Wildflower viewing. While Death Valley is perceived as a desert with few life-sustaining qualities, the truth is quite the opposite. The wildflower bloom demonstrates the life that springs forth from late fall and winter rains. Each year's display varies with the intensity of the bloom and the timing of the flowers' appearance. But it is not uncommon to see Desert Gold and Brown Eyed Evening Primrose or Notched Leaf Phacelia appear in mid-January or earlier. The full impact of the revitalization becomes most apparent between February and March but sometimes continues until June at higher elevations.
For more information and reservations, visit oasisatdeathvalley.com or call 800-236-7916.
For more travel experiences available from Xanterra Parks & Resorts and its affiliated properties, visit Xanterra.com/explore.
WRITTEN BY: STEVE LARESE
Steve Larese is a travel journalist whose writing and photography appear in National Geographic Traveler, TravelChannel.com, American Way and other publications. He specializes in America's national parks.
---