How to Spend A Weekend In Death Valley, CA
Death Valley is often thought of as one of the most rugged locations on Earth, but the truth is quite the opposite. From October through April, the valley offers surprisingly pleasant temperatures for people wishing to escape the winter cold. And visitors will discover an amazing amount of biodiversity made possible by over 600 ponds and streams. What's more, there are more things you can do for fun in Death Valley than you can possibly do in one weekend.
Play a memorable round of golf
Not only is there a championship golf course in Death Valley, but it is also recognized by Golf Digest as one of "America's 50 Toughest Courses." So, pack your golf travel case and head down to hit the links at Furnace Creek Golf Course at Death Valley.
This 18-hole, par-70 course was designed by the renowned golf course architect, Perry Dye. Four sets of tees enable players of all skill levels to participate. But with water features on 9 holes, even the most experienced players will find something to challenge them on this course. Use a golf push cart to move your clubs around so you can focus on the spectacular scenery.
Since the bottom of Death Valley boasts the lowest elevation in North America, The Furnace Creek Golf Course at Death Valley also has the distinction of being the lowest golf course in the US. It sits 214 feet below sea level. It's also one of those clubs where you can boast you played the game and bought the T-shirt…in the well-stocked Pro Shop.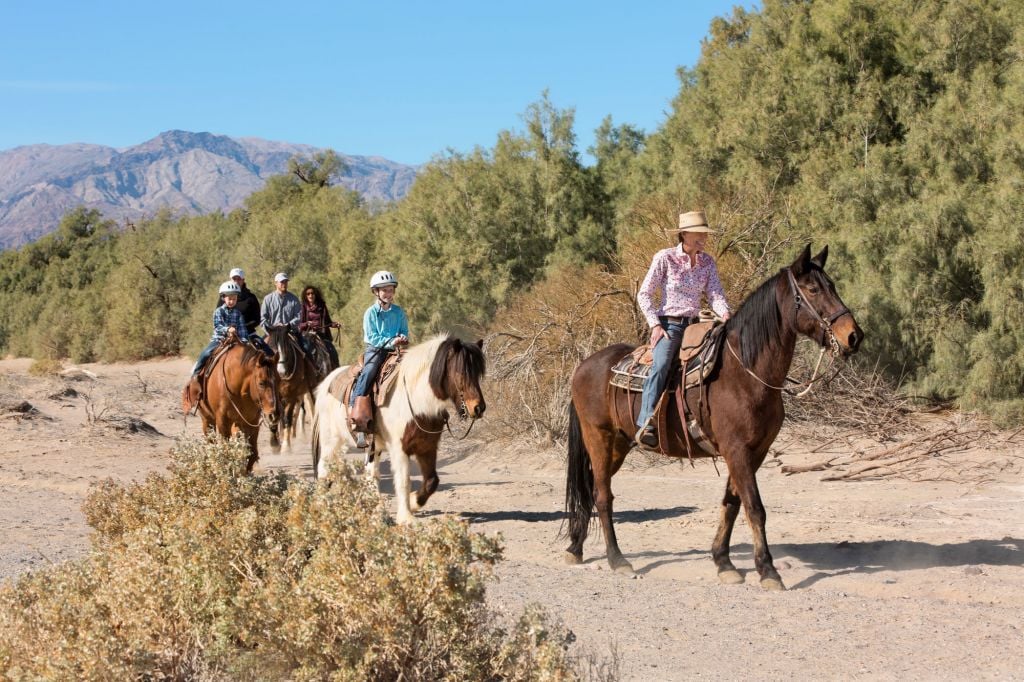 Enjoy trail riding through spectacular desert scape
The Ranch at Death Valley hosts Furnace Creek Stables, where you can join their fantastic 1 or 2-hours guided horseback trail rides through Death Valley National Park. Choose from a ride into the desert at the base of the valley or a longer ride into the foothills of the ominously named Funeral Mountains.
On a clear day, you can see over 100 miles from the foothills. This is a perfect way to reenact the journey through Death Valley followed by pioneers and gold and silver prospectors. And if you prefer to be driven rather than ride, Furnace Creek Stables also offers evening hay wagon and carriage rides through the valley.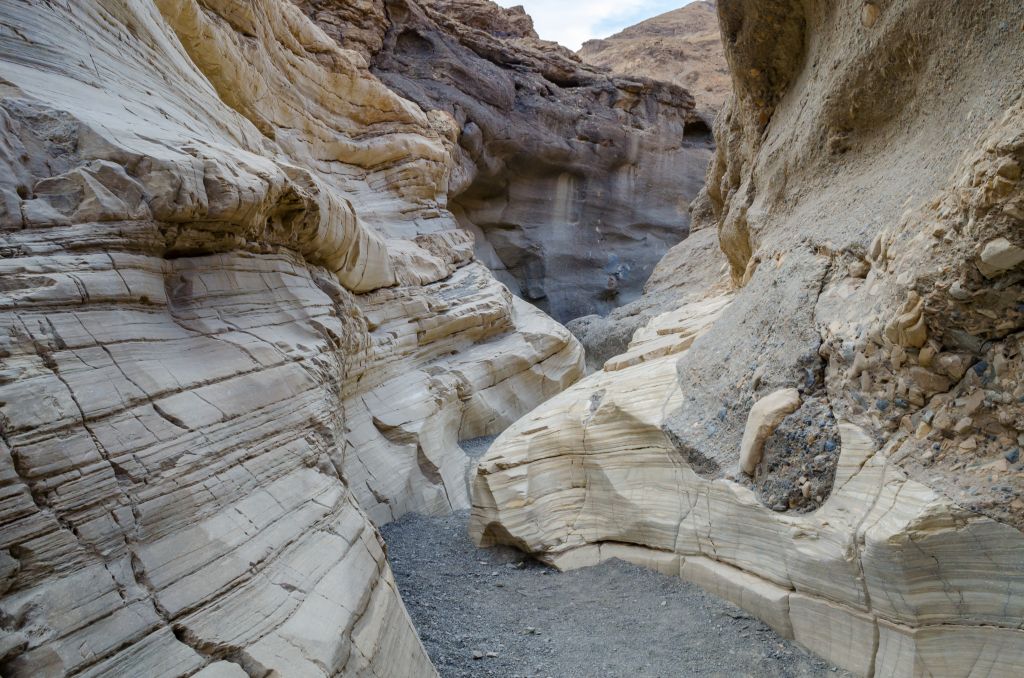 Hike through breathtaking scenery
There are few mapped trails through Death Valley National Park, but well-trodden paths thread through the valley. Recreational walkers can follow such informal trails into Mosaic Canyon (4 miles), Golden Canyon (3 miles) or visit the Harmony Borax Works historic site (0.4 miles).
For hiking April through October, you need to take care when you're out under the sun. Take plenty of bottled water and apply sunscreen. Wear wide-brimmed hats, too. Even in winter, the dry air in Death Valley means you need to stay hydrated.
If you want more of a challenge, the steep 14-mile path up to Telescope Peak in the Panamint Range makes for a challenging all-day hike. At 11,043 feet above sea level, the peak is the highest point in Death Valley. However, be warned. Despite the pleasant temperatures below, these mountains get their fair share of snow in winter. So, for a hike into the mountains, you'll need to carry layers in your backpack you can add as you ascend.
Smell the flowers
You might be shocked to discover that Death Valley is a great place to admire wildflowers. Between mid-February and mid-May, spring showers often paint the valley floor in a blaze of colors.
If you're visiting Death Valley in spring, head for Jubilee Pass near The Inn at Death Valley. There you might find blazing star, desert gold, Encelia, evening primrose, mimulus, phacelia, poppies, verbena, and, of course, flowering cacti.
In late spring and early summer, you'll see plenty of wildflowers at higher elevations as you hike into the Panamints. However, you'll find different flower species at higher elevations when compared to the valley floor, such as the endemic Panamint daisies, paintbrush, lupine, Mojave wild rose, rabbitbrush, and mariposa lilies.
Learn how to relax
In all the classic B-Westerns, the heroes check into the hotel above a saloon to soak in a hot tin bath and wash off the trail dust. Although The Inn at Death Valley is a historic inn, you'll find that things have changed a little over the years. Today, The Inn features a spa with a trained masseuse exclusively for the use of guests.
So, if you want to pamper yourself with a relaxing spa day, check into The Inn at Death Valley. Rather than an antique tin bath, expect to find brand new spa rooms with services such as aromatherapy, salt scrubs, hot stone massages, and reflexology. And if you want a swim to wake you up, The Inn at Death Valley boasts a spectacular spring-fed pool.
Drink in a saloon from the Wild West
If you dream of treading your cowboy boots into a saloon from the old west, check out the recently added Last Kind Words Saloon, located at The Ranch at Death Valley. This Western-themed restaurant and bar is an aesthetically pleasing tribute to one-horse-town saloons of a bygone age.
The menu follows the theme. You can look forward to a spicy chuckwagon chili, Dante's chicken wings, Tomahawk bone-in ribeye, game of the day, tasty steaks, and wild Alaskan salmon. Vegetarians aren't neglected, with delicious grilled flatbread, 1849 penne, and poblano macaroni and cheese. And, of course, the classic selection of whiskeys and beers you'd expect in any Wild West saloon…as well as some fine wines you might not!
And if the delicious food tempts you to overeat on vacation, you can burn off some calories by swimming in the refreshing spring-fed swimming pool.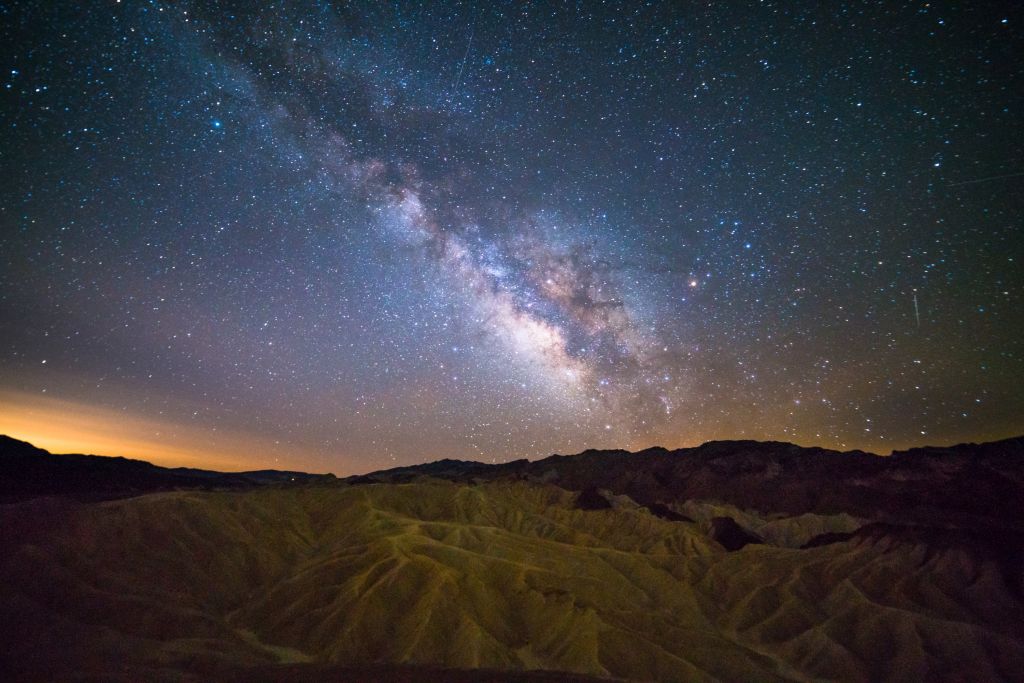 Gaze at the stars
Because Death Valley National Park is so far away from "civilization" (read smog, smoke pollution, light pollution), the park is designated a "Gold Tier" Dark Sky Park. From Furnace Creek, you can enjoy unobstructed views of the night sky that make Death Valley an excellent, year-round destination for keen astronomy enthusiasts.
In fact, The Ranch at Death Valley hosts regular Star Parties in conjunction with the Las Vegas Astronomical Society. Death Valley is close enough to LA and Vegas for city dwellers to come for a getaway weekend of stargazing but far enough away that the city light pollution does not interfere with the local night sky.
Too much for only one weekend!
As you can see, there's more to do in Death Valley than you can squeeze into one short weekend. However, if you stay in Fiddlers Campground, the Historic Four-Diamond Inn at Death Valley, the family-friendly Ranch at Death Valley, or in one of the 22 new Inn Casitas, you'll be staying within The Oasis at Death Valley, right at the heart of Death Valley National Park. That makes it super convenient for you to do any of the great activities mentioned above.
---