Summer in Death Valley: How to Chill Out in the Hottest Place on Earth
In recent years, August has become the busiest month of the year for tourism at the park, beating out the nearly perfect weather months of late winter and early spring by a wide margin.
Before discussing Death Valley National Park in summer, let's first take a brief detour to a place of snow, ice, and sub-zero temperatures.
When asked why he wanted to climb Mount Everest, the adventurer George Mallory famously replied, "Because it's there." Now, if you were to query the thousands of Death Valley summer visitors who brave temperatures that can soar past 120 degrees by day and linger around 100 overnight, you might get a similarly succinct response: "Because it's hot." Very hot, to be precise.
If mad dogs and Englishmen go out in the midday sun, as Noel Coward once sang, they would hardly be alone in Death Valley, where thousands of their fellow Europeans — Germans, French, and Italians — come to experience the world's hottest place at the very hottest time of year. In fact, July 2017 and July 2018 in Death Valley were the most scorching months ever recorded anywhere on the planet. It's no wonder that leading automakers come to Death Valley to test their vehicles under these extreme summer conditions.
But proving that human beings are not always the most rational of creatures, in recent years August has become the busiest month of the year for tourism at the park, beating out the nearly perfect weather months of late winter and early spring by a wide margin. In August 2018, nearly 183,000 people visited the park.
So beyond the bragging rights and that inevitable selfie in front of the thermometer outside the park's Furnace Creek Visitor Center, what on earth are you going to do at the hottest place on Earth during summer? Here are a few suggestions.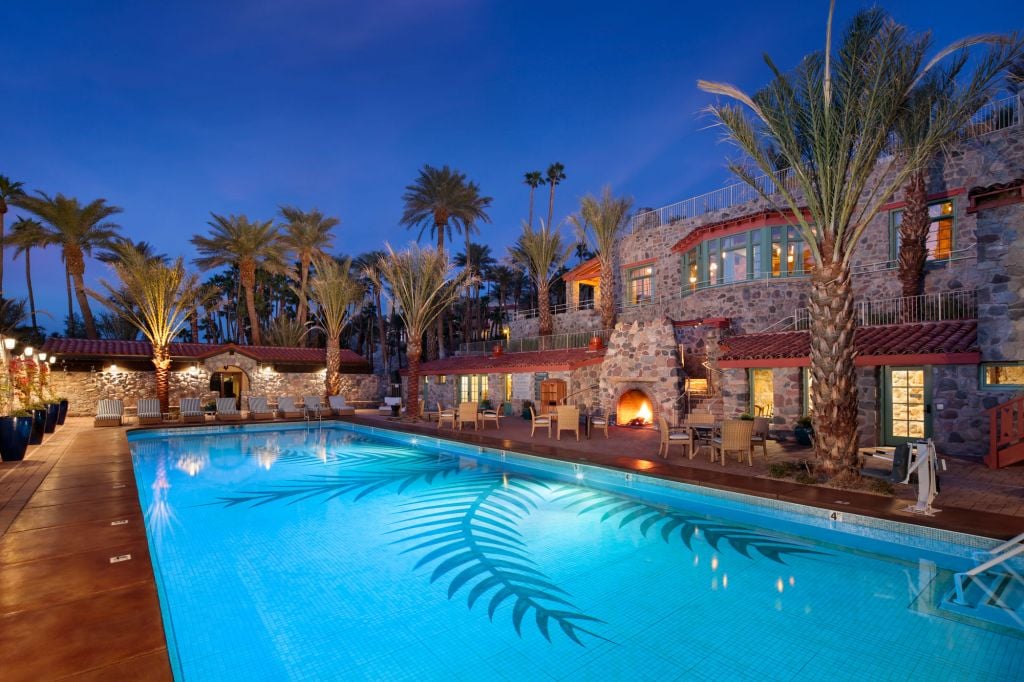 Do Absolutely Nothing…or Close to It
The Oasis at Death Valley lets you shelter in place during summer in comfort — and even luxury. For many years, the AAA Four Diamond Inn at Death Valley closed seasonally for two good reasons: a lack of visitors and a lack of air conditioning. Now you can, if not exactly chill out, stay out of the sun in a cabana next to The Inn's spring-fed pool. Or enjoy an assortment of treatments, including Swedish and hot stone massages, in the hotel's renovated spa rooms. And the newly improved fitness center lets you get some exercise during a time of year when hiking and other outdoor activities in the valley are only safe during the cooler, predawn hours.
Meanwhile over at the nearby Ranch at Death Valley, you can cool off with a craft beer or an artisan cocktail, such as the Dust Storm (Myers's Original Dark Rum and sarsaparilla on the rocks), at The Last Kind Words Saloon, the remarkable drinking and dining establishment that brings the Old West alive thanks to its classic décor and vintage artifacts. Or if you have the kids along, have fun in the spring-fed pool or on an evening carriage or hay wagon ride.
Head to the High Country
While Death Valley is most famous for such low-elevation destinations as Badwater Basin, the lowest spot in North America at 282 feet below sea level, the sprawling park also encompasses huge expanses of mountainous terrain. So when the going gets hot, the hot get going to areas in the Panamint Range along Emigrant Canyon Road, which begins off State Highway 190 past Stovepipe Wells and about 90 minutes from the inn.
Give yourself a day to explore the park's high country, where unpaved roads lead to Skidoo, a former gold mining townsite (high-clearance vehicle recommended) and the spectacular views from 6,433-foot Aguereberry Point, named for Pete Aguereberry who established the Eureka Mine. The cabin he built in 1907 and lived in until 1945 is about a mile down the unpaved road after you turn off from Emigrant Canyon.
About 28 miles from Highway 190, the pavement ends on Emigrant Canyon and a gravel road leads in two miles to the Charcoal Kilns, distinctive beehive-shaped structures that date to the 1870s and that were built to create fuels for ore-processing smelters.
Nearby, you'll find trailheads for Death Valley's two classic (and challenging) high country hikes. An 8.4-mile round-trip hike leads to 9,064-foot Wildrose Peak, where the views stretch all the way to the Sierra Nevada range.
Or climb to Telescope Peak, the park's highest point at 11,049 feet. The 14-mile round-trip trek begins from wooded Mahogany Flat campground and has a 3,000-foot elevation gain. It's definitely not for everyone. But even a short 2-mile round trip through the forest of pinyon pine leads to an overlook with views more than 8,000 feet down into Death Valley.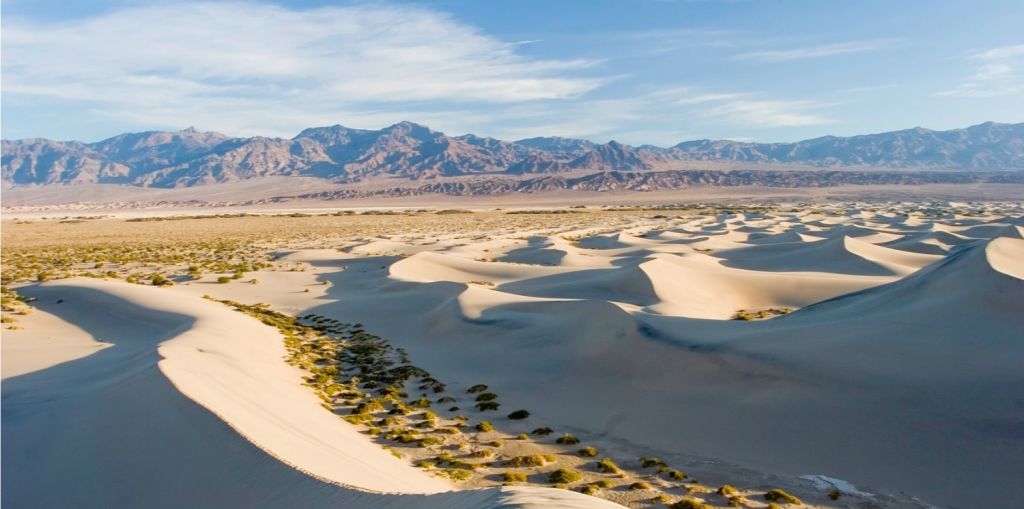 Summer Travel Tips
Stick to paved roads in summer and tell someone at the hotel what your travel plans are.
Keep in mind that GPS navigational systems can be unreliable in Death Valley, and, if something goes wrong on the road, you may not have any cell phone coverage.
Check that tires, including the spare, are properly inflated and have sufficient tread life. All fluids should be at proper levels. Gritty, sandy conditions mean that you'll want plenty of wiper fluid and windshield wipers that will actually clean, not add streaks to the glass that can become blinding when driving into the sun.
Carry extra water in case you get stranded. A gallon per person is recommended. You should also stay with your vehicle if you have a breakdown because it can provide shade and you'll be easier to find.
And in summer, a functional air conditioner isn't a luxury, but an absolute necessity.
How to Explore
The Oasis at Death Valley in Furnace Creek is situated in a lush oasis surrounded by the vast and arid desert of Death Valley National Park — just 120 miles northwest of Las Vegas and 275 miles northeast of Los Angeles. The resort encompasses two hotels — the historic AAA Four Diamond, 66-room Inn at Death Valley and the family-oriented, 224-room Ranch at Death Valley. The entire resort went through a complete renaissance with an extensive renovation in 2018. It includes natural spring-fed pools, an 18-hole golf course, horse and carriage rides, world-renowned stargazing, and is surrounded by Death Valley National Park's main attractions. For information and reservations, visit The Oasis at Death Valley or call 800-236-7916.
For more travel experiences to Beautiful Places on Earth™ available from Xanterra Travel Collection® and its affiliated properties, visit xanterra.com/stories.
---